I remodeled my bathroom last year that raised the floor level by 1.25″. At that time, I used a double wax ring setup where I stacked an extra thick wax ring (with funnel) on top of a regular wax ring to solved the height issue. Fast forward a year later, I started to smell a faint sewer gas odor so I decided to take it apart and implement a more permanent solution.
Background
One thing I did not want to do was disturb my existing mortar bed and the underlying PVC liner because it was pitched to a shower drain. So my options were to:
Do another Stacked or Double Wax Ring setup;
Install an toilet flange extender kit;
Install spacer ring(s) with wax ring;
Whatever solution I chose, I wanted to make sure to minimize the risk of leaks because it can often go on without being detected for a long time.
I think most designs are okay as long as the waste solids ad liquid is flowing downward without being obstructed. But what would happen if there was some sort of a clog in the waste pipe? In addition, I would imagine the inner toilet flange area will be moist 24×7 so how would some of these new toilet extenders hold up in such environment? Can a thin gasket really remain tight over a long period of time? Can some of these peel-off adhesives really last?
So I explored many available options before settling on my final choice.
Double (or stacked) Wax Rings
After having this setup fail previously, I was not willing to gamble on it again. No dice. (Read my detailed reasoning in my post.
Fernco FTS-3 Wax-free Seal
Fernco option uses adhesives to secure it to the bottom of the toilet and just felt that this adhesion probably will not last in a constantly moist environment. Additional flaws that I saw were:
The length was too short so the barbed connector would not securely mate to my 3″ copper waste pipe;
The horn on my toilet was not quite a true circle. Although Fernco FTS-3 could flex somewhat and forms around the shape of the horn, I felt that would have exerted extra pressure on the adhesive, possibly leading to early failure;

There were manufacturing leftover "bumps" on the toilet (large enough so that they would have to be chipped off) and indented date stamps and lettering around the horn which would have prevented the adhesive ring from sticking properly and completely to the surface;
Out of the three FTS units I purchased, one had a defective adhesive ring which made me more uncomfortable about using this product;
I think Fernco is a good solution if your toilet flange is almost level with the floor, the surface of the bottom of your toilet is even and the horn is round. My Champion 4 toilet did not meet these conditions so I decided against Fernco FTS-3
Fluidmaster 7500 Wax-free Seal
Again the horn on my Champion toilet was more an oval than a circle so Fluidmaster's perfectly shaped circle funnel (made of rigid, non-flexible plastic) would not securely mate at all.
In addition, Fluidmaster uses a thin gasket (made of neoprene) which I thought was a good idea, but it was too thin for it to compress around any surface imperfections. Sorry Fluidmaster, no go with you either.
Oatey Closet Flange Spacer Kit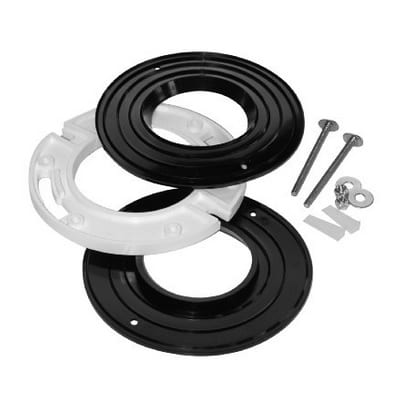 I did not think that a thin rubber gasket (alone) can work effectively without applying additional sealant. It had a nice concept of "defense rings" on the gasket, but I thought the grooves on the PVC flange would negate any advantages so I decided against this product as well.
Sani Seal
Sani-Seal states that it's a waxless toilet gasket that is flexible and re-positionable. Because it is comprised of a patented foam, it can adapt very well to uneven surfaces.
The problem is that in my non-scientific experience, a foam cushion that is exposed to constant moisture will eventually soak in the moisture which may result in it emanating offensive odor. In addition, my guess is that toilet cleaning chemicals will eventually degrade this foam sooner than later. So my answer is no.
Set-Rite SREX2004Y Extender Kit
In my opinion, Set-Rite came pretty close to being perfect. Their extender kit came with four spacer rings, which can bring the toilet flange level up to 1 5/8″. In addition, the extender (funnel) can reach down 2 1/4″.
So what did I not choose this product? For several reasons:
I did not like the use of the gasket at the bottom of the extender. According to Set-Rite, the extender is inserted into the gasket made of Durofoam material. That in turn sits on top of the toilet flange. My problem with this approach was that a toilet flange surface is rarely level and true. Yes, the gasket, which is approximately 1/4″ thick, will follow the surface contour but up to a point. I suppose the connection can be tightly compressed by using all six stainless screws but when I tried, the toilet flange and its screws blocked at least 2 or more Set-Rite screw holes.
Set-Rite's FAQ section states that "… The gasket will outlast both you and I, it has been tested and approved by IAPMO, UPC and is NSF compliant. It is made of the latest material development by Durofoam…". Sounds good but where is the data to back up that claim? Maybe I am the only one, but I could not find any manufacturer specification data on Durofoam. In addition, why is that Set-Rite does not offer any kind of written warranty against gasket failure>
I did not like the use of honeycomb deign for the spacer rings which prevented me from using wax rings between their spacer rings;
I really did not like the idea that all Set-Rite spacer rings have pre-weakened joints so that they can be snapped in half and be converted into bay flanges;
Set-Rite's spacer rings are larger than the toilet flange. By design, the inner diameter of Set-Rite's spacer ring matches the outer circumference of a toilet flange. That means possibly breaking portions of your new tiles to accommodate its larger size;
Again, this is my personal opinion that Set-Rite came close, but no cigar from me.
So What was My Solution?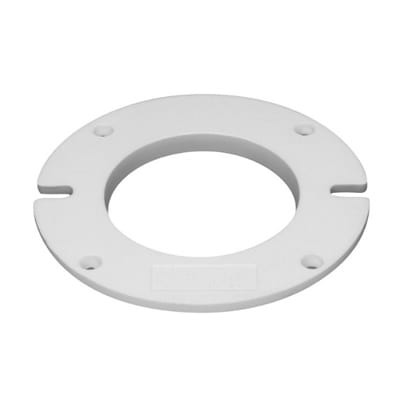 I ended up installing two Oatey Flange Spacer Rings and layered them with wax rings because it provided solid foundation that others didn't. Here is how I did it.
REQUIRED PARTS AND TOOLS
ALLTHUMBS DIY STEPS
STEP 1 – Flush 4 times with clean water, add 1/2 cup of bleach to the bowl, then flush twice after that;
STEP 2 – Shut off water supply. Using a large / small cup, first empty out the water tank, then the remaining water in the bowl;
STEP 3 – Remove the water tank and lay it on a piece of towel (away from your immediate work location);
STEP 4 – Remove the toilet, plug the waste pipe with a cloth, then scrape off the old wax ring;
STEP 5 – Take a scraper and lightly scrape off any residue on the toilet flange;
STEP 6 – Add and test fit spacer rings until they are flush with the floor. Remove and put it aside;
STEP 7 – Install johnny bolts then place a standard wax ring (without a cone or funnel) on top of the toilet flange. Using your fingers, gently press down along the inner edge to ensure secure bonding to the toilet flange. Once done, start pressing outward so that the approximate height of the wax ring is about 1/4″;
STEP 8 – Install the first spacer ring. Then gently screw down four, 2.5″ Deckmate screws with washers. Take care to evenly tighten the ring. As the ring is lowered, excess wax will squeeze out inside the pipe. Remove and discard this portion. Once tightened, remove all screws and washers;
STEP 9 – Add second standard wax ring on top of the spacer ring #1. Repeat steps #7 and 8;
STEP 10 – Install the second spacer ring, screw down again using previously used Deckmate screws and washers. Remove excess wax. Remove screws and washers;
STEP 11 – Add a third standard wax ring on top of the spacer ring #2. Repeat steps #7 and 8;
STEP 12 – Add a third and final spacer ring. Screw down again using new set of 4″ Deckmate screws and washers. Remove excess wax;
STEP 13 – Attach the jumbo sized wax ring with a built-in cone to the toilet horn;
STEP 14 – Carefully place the toilet by lining up johnny bolts, then evenly press down (you should feel the wax squeezing down). Sit on the toilet (without rocking) for a second or two to further "seat" the toilet.
STEP 15 – Use shims to level your toilet. I would NOT use toilet shims as they are impossible to break off protruding shim edges. Instead, use composite shims. Install nuts to johnny bolts, making sure that they are snug (don't tighten too much or you will break your toilet!)
STEP 16 – Re-install water tank and connect supply hose. Fill the tank with water and test.
STEP 17 – Wait until next day to apply caulking to the toilet base (just making sure you have no fluid and/or sewer gas leaks). Some people do not like to caulk so that they can detect future leaks, but caulking is mandated by the latest plumbing code.
It looks like a lot but with some careful planning, the whole process took about 2 hours. Just make sure you have everything BEFORE you start the project so you don't have to run out during the project.