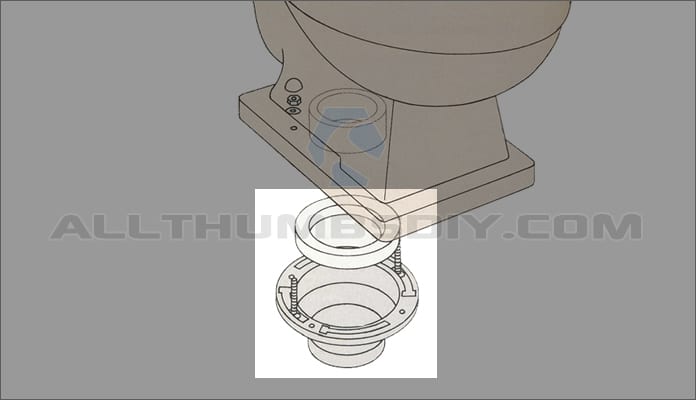 Low toilet flange is a common problem when installing a new (or in my case thicker mortar base). Unless your toilet is properly mated and sealed to the waste pipe, you may face problems related to sewer gas odor (it's very unhealthy and unpleasant) and/or fluid leaks.
The purpose of this article is to review current products that may solve this problem.
Background
Last year I decided to gut and remodel my small bathroom. Because the sub flooring around the waste pipe was in very good shape, I left it in place.
To make the long story short, my thicker mortar bed, mesh backer, liner, thinset and new floor tiles all added up to raising the overall height of the floor by approximately 1.25". That meant my toilet flange was now 1.25" BELOW my new floor. Yikes!
Being a newbie DIYer, I realized I made a mistake AFTER tiling my new floor. You see, because my bathroom was so small, I decided not to use a shower pan which meant I poured thicker mortar bed than I normally would have to pitch water to the shower drain.
After researching around a bit, I noticed lot of people in my situation used double (stacked) toilet wax rings to compensate for the height disparity so I took one plumber's advice and bought two wax rings: a regular "thin" wax ring along with FluidMaster's jumbo wax ring extender kit (which included extra thick wax ring with a built-in polyethylene flange).
This solution seemed to have accomplished the job except that a year later, I am now starting to smell a faint sewer gas odor on and off. Obviously breathing in sewer gas is very very unhealthy, especially when all windows are closed during the hot summer or freezing cold days, I decided to research little bit more in depth about implementing a permanent fix.
OPTIONS
Of course, the obvious solution was to gut the floor, remove the lead and oakum, de-solder the flange, add a coupling and extra pipe and add a new flange to match the higher.
But that solution was unappetizing not only because of the time and expense involved, but that would have forced me to disturb the mortar bed along with a PVC bed liner that was pitched to the shower drain. So I decided to explore some NON-DESTRUCTIVE options:
Option #1: STACKED WAX Rings – Simply use the same double stacked toilet wax ring setup again.
Option #2: Extender Kit – Extender is nothing more than a "funnel" that provides solid conduit path from the bowl horn to the toilet flange. Some are standalone (Zurn Flo-Bowl Jr) and some are part of a kit (Set-Rite).
Option #3: Spacer Kit – Spacer kits come with hard PVC rings with various thickness. Some comes with built in gaskets, others either come with separate gaskets or none at all (in that instance you need to use mastic of some sort like a caulking or plumbers putty). These rings are designed to be stacked in whatever combination to match the new floor surface level. Some kits also come with a toilet flange extender (see option #2).
Option #4: Sani Seal – This is a fairly new product on the market. Sani Seal is a thick, doughnut shaped made of polyurethane foam ring with a built in cone mold on the bottom that is designed to replace the stacked wax rings. According to the manufacturer, Sani Seal can also be stacked.
NOTE
All of these products require that your old toilet flange be in a good physical condition to ensure positive seal. If you find that the flange has rust rot, cracks, or other physical defects, or any rots on the subflooring, you need to address those issue first.)
REVIEW – DOUBLE / STACKED WAX RINGS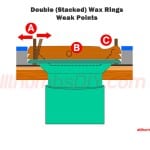 This is probably the most common path taken by DIYers. It's a simple configuration of one regular wax ring stacked on top by another "extra thick" wax ring with a built-in flange. The entire setup can be purchased under $10 and can be installed with relative ease (although it was a nerve wrecking process for me because you won't know if the proper seal was made until you flush the toilet).
But in reviewing the double stacked wax ring configuration in detail, I started to wonder if there were some inherent design flaws or weaknesses that attributed to my (sewer gas) situation. After some thinking, I came up with three possible flaws:
(A) Horizontal racking force on the toilet flange bolts – With approximately 1.5″ space between the flange and the bottom of the toilet, flange bolts are not supported horizontally. It would only take a slight bump on the toilet to throw these bolts sideways, possibly damaging the wax ring, creating gaps or even possibly cracking the toilet ceramic.
(B) Bonding failure between the toilet wax rings – with the toilet being slightly wobbly due to uneven tile floor, it is conceivable that the vertical pressure applied on these wax rings are not even, possibly causing gaps in certain spots between wax rings.
(C) Top wax ring seal failure – I'd imagine you want a solid "squishing" effect on the top (toilet bowl horn) and the bottom (toilet flange). However, in the case of a stacked wax rings, top wax ring is forced down on another wax ring that is softer than a toilet flange surface. Since there is no solid bottom surface to squeeze the top ring, that could potentially prevent the top ring from being seated tightly against the bowl horn.
(D) Head or Hydrostatic pressure failure – Increased fluid pressure due to clogs (or even using a plunger) can potentially burst weak spots in between "seams".
Due to these reasons, I decided AGAINST implementing the double or stacked wax ring setup.
REVIEW – TOILET FLANGE EXTENDERS / WAX-FREE TOILET SEAL
Toilet flange extenders are constructed with either soft or hard PVC, providing solid pathway from the bowl horn to the toilet flange on the floor. I believe products in this category are designed to replace the use of wax rings only, although Fernco advertises that it can handle toilet flanges that are up to 3/4″ lower than the floor surface.
Most are designed to fit INSIDE the toilet drain pipe which will provide a good, solid, positive seal but there are potential issues to be aware:
You need to know the exact size of the drain pipe in order to purchase the right part. That meant taking the toilet apart for few days.
It's my understanding that if you have a 4″ drain pipe, small reduction to inner diameter is acceptable. But if you have a 3″ drain pipe, you would want to minimize any reduction to the inner diameter as that would reduce the flow rate. I found out that the bowl horn's inner diameter is anywhere between 2.0″ to 2.5″. So as long as the product does not reduce the maximum size of a bowl horn, clog won't be an issue.
Some older toilet designs from 1960s or earlier may have a protruding bowl horn which might create some clearance issues.
Fernco
Fernco (manufacturer link) has been around for a long time and I know most plumbers I have used in the past (yes, I hire plumbers for jobs that are beyond my DIY skills) all recommend Fernco. Fernco products are made in USA and synonymous with rubber products like ProFlex shielded coupling and wax free toilet seals.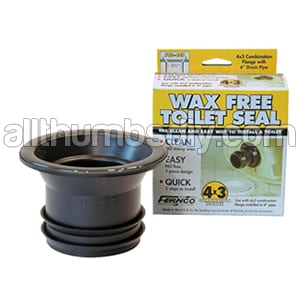 Fernco's wax-free toilet seal product (FTS-3, FTS-4, and FTS-4CF) are comprised of flexible PVC that uses adhesives and barbed fitting (in lieu of gaskets) to create positive bowl horn and waste pipe seals. These positive seal connections are designed to seal out any fluid or gas leaks in addition to handling head-pressure (when a clog occurs).
For brochures and installation instructions, click here 1, here 2, and here 3
However, there may be some potential issues:
Concern #1 – Fernco's installation instruction stresses that the bowl horn surface needs to be absolutely clean of oil or wax residue that might prevent the adhesive from sticking properly. But what about toilet surface imperfections like pits, bumps, or irregular bull horn shape?
Concern #2 – The adhesive surface ring is approximately .29″ wide. What is the life expectancy of this adhesive under repeated exposure to liquid? I am not exactly sure how the gasket is made but maybe it is something like Loctite Elastomeric Adhesives and Sealants with Flextec™ Technology?
Concern #3 – Barbed mating reduces the inner diameter of the waste pipe. Does that increase the likelihood of a clog?
Concern #4 – Fernco's advertising states that "… Toilet can be removed and reinstalled with the same Fernco Wax Free Toilet Seal still attached…". Maybe that's true but unseating a toilet places a lot of pulling stress on that narrow adhesive surface due to the barbed connection. If it were me, I would opt to install a new one and not risk getting a leak
Lastly, some users have complained that in contrast to Fernco's advertising, this product does not fit well with certain cast iron waste pipes (click here for complaints). According to Fernco's customer rep, FTS-4 works with cast iron pipes with inner diameter between 3.96″ to 4.02″ but some customers reported that their cast iron waste pipes measured 3.75″ I.D. In addition, unlike PVC or copper waste pipes, cast iron pipes tend to cling on to aggregates in its pipe, which might also contribute to poor-fitting.
Fluid Master
You've probably seen Fluidmaster's plumbing products (manufacturer link) that come in red and green boxes and are ubiquitous in any plumbing sections at large home improvement stores.
Unlike Fernco, Fluidmaster products are made in Mexico and utilizes a "special rubber". Based on how it felt and looked, I believe the gasket is made from "red rubber" or styrene butadiene rubber. Red rubber is considered to be a low cost flange gasket material that is non-oil resistant compound and resists flow under compression.
Fernco's Wax-free toilet bowl gasket is supposed to offer moderate to good performance against low pressure with good aging characteristics and abrasion resistance. On the flange side, it uses what looks like an closed-cell foam based O-ring to create a positive seal.
Here some potential issues that I thought of that may apply to your situation:
Concern #1 – Fluidmaster extender is made of hard PVC. That means there is no "give" when compressed down by the toilet. If the toilet flange is too high or there simple is not enough clearance between the extender and toilet flange, one or both components might break
Concern #1 – Although Fluidmaster 7500P is an universal model that can fit either the 3″ or 4″ waste pipe, using this model on a 4″ waste pipe may reduce the flow rate.
In addition, one user have complained that his older 1950's toilet design (with protruding horn) prevented him from using this product so you may want to pay attention to when your toilet was made (if you were going to re-use it).
Zurn
Zurn (manufacturer link) products for use in commercial, municipal, and industrial markets.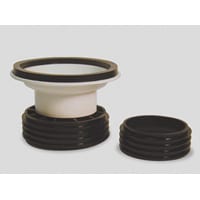 As far as I can tell, Zurn's Flo-Bowl Jr ( part # CF2991 ) is made in USA.
At $8, it is commonly found at plumbing supply stores. Information found on this product is non-existent but based on the picture, it follows the same design principle as the Fluidmaster's wax-free seal products. 
Toilet Flange Spacers / Extender Kids Reviews
If your floor surface is more than half an inch above the closet flange (in my case 1.25″), you must extend the flange so it's flush with the new floor surface.
A closet flange extender or spacer ring(s) with flexible gaskets can do that job.
Oatey 1/2 inch Toilet Flange Spacer
have seen this product being recommended by professional plumbers in various forums.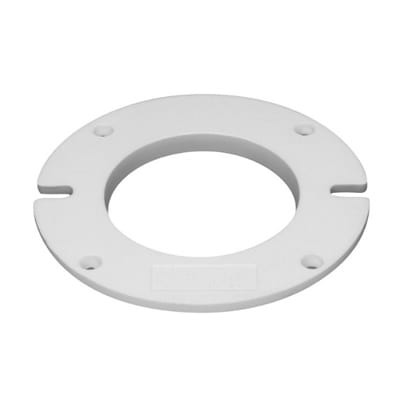 One distinguishing feature being promoted by the manufacturer is that its space rings are made of solid polyurethane (not hollow) and thus can be stacked with confidence.
Because these spacers are sold individually, you will need to purchase the hardware separately:
Oatey Closet Flange Spacer Kit
Oatey parts (link) are widely available at various online and offline stores. Oatey is another trusted plumbing parts manufacturer that has been around for a long time.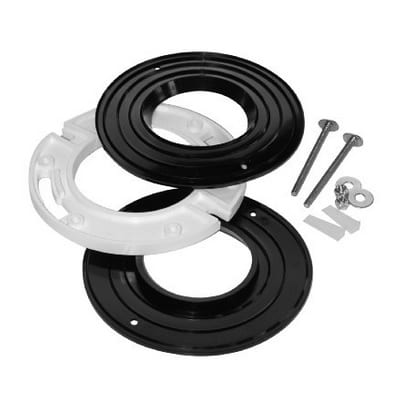 Oatey's spacer ring (Closet Flange Spacer Kit, Part # 43645) is constructed of solid polyurethane like Quik-Fix spacer rings, except that it does not come with built-in gaskets.
Unlike Q-F's foam gaskets, Oatey utilizes O-ring gaskets with 2 channel rings to block out liquid and gas. 
Set-Rite
Set-rite was one of the first manufacturers to patent a wax-free rings that stacked. Due to its success, the company was purchased by a plumbing supply behemoth, Oatey in 2017.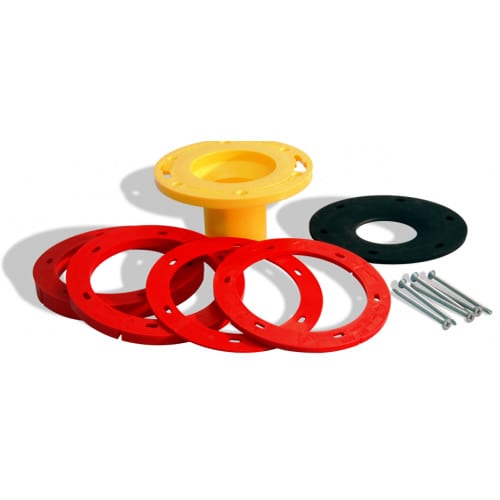 I like this Full Extender Kit containing everything I need to solve my toilet flange problem. The kit included:
Four Spacer Rings – 1/8″, 1/4″, 1/2″ & 3/4″
One Set-Rite Gasket
One Set-Rite Extender
Six 3-1/2″ Stainless Steel Screws
To complete the repair, you would also need to purchase a standard wax ring (without the plastic cone/funnel) as well as "Johnny" bolts or T-Bolts in proper length.
Installation process is simple: install the gasket on top of the toilet flange on the floor, add spacer rings to match the new floor surface level, add the extender, add a standard wax ring the set the toilet on top. I like the product but I see some potential issues:
Set-Rite spacer rings are hollow.
Rings also serve as bay flanges by having joints that can be snapped in half.
One foam gasket (3/16″ thick) mounted on the flange serves to prevent both the liquid and sewer gas leaks
Although the ring is hollow, I don't think that is a big deal since it has a sectional ribbing support so I doubt it will have a structural failure (I am guessing the toilet will break before the rings are crushed).
The part I do not like is that it has weakened joints to snap the ring in half (to convert it into bay flanges). I would like to see Set-Rite make two different types of rings for difference purposes.
The other part I do not like is that a 3/16″ thick foam ring sits on top of the toilet flange to seal out any liquid or gas. I think the thickness should be increased to provide seal to uneven surface but I would much prefer to see something like Fernco's barbed pipe end or Fluidmaster's foam ring that gets inserted into the waste pipe.
Conclusion
With so many good products on the market, it's easier than ever to properly raise a toilet flange that is too low.
Just make sure to take your time to assess your own situation before making any purchases.
In my next post, I will show you how I corrected my low toilet flange.

PS. If you found this article to be useful, why not sign up for my newsletter? Just look for a signup form on the upper right hand side of your screen. Thanks!
RELATED ARTICLES