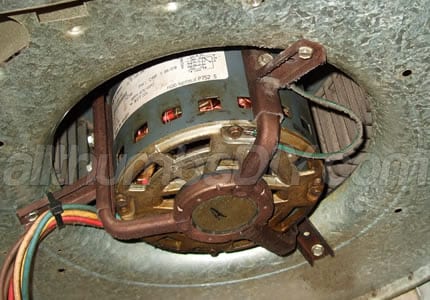 How to Replace a Trane Blower Motor is a multi-part series article, broken into Part 1 and Part 2.
ABSTRACT
Part I of the article series contains information on identifying the blower motor problem, purchasing a replacement part, gathering necessary tools and finally disassembling the Trane Air Handler / Furnace for removal of the blower motor.
BACKGROUND
My Trane Air Conditioning / Central Heat has been solid since the installation date (back in 1997 I believe). Of course with any mechanical setup, components wear out over a period of time and that is exactly what happened when I started to hear high pitched sound (sort of like metal-on-metal grinding noise) whenever the cooling / heat fan kicked in.
I researched it online after looking inside my furnace / air handler and finding metal shavings near the blower. I knew the motor was sealed (meaning I could not periodically add oil to the bearing) and had been wondering about when it would fail on me.
So I called my trusty HVAC place and asked a salesperson about a solution and he suggested that I replace the blower motor. The replacement motor made by Dayton was only $140 or so but the installation fee was fairly high at $340 so I decided to tackle the job myself.
This particular salesperson was very professional and even gave me some tips (like making sure to salvage the motor mounting bracket as it was very expensive to find one). He also recommended that I replace the capacitor at the same time as capacitors lose their efficiencies over time. The cost for Dayton replacement capacitor was only $8 extra so I bought one as recommended.
Item
Old
New
Blower Motor
GE MotorsP01
924883007504 1400
1/3 HP, MOD 5KCP39JG P752 S
Cp 5.00 / 370, RPM 1075/4SPD
Dayton 4M098G
1/3 HP
Cp 5.00 MFD / 370 VAC, RPM 1075 / 3SPD
Capacitor
GE
Z97F9239
5uF, 370 VAC 50/60 Hz
A10000AFC 92-43Z572
D137452P03
Dayton
5uF 370VAC 50/60 Hz
MPP2505370J 4506W
E236128
REQUIRED TOOLS AND MATERIALS
Replacement blower motor
New capacitor
Hammer
Wire cutter / stripper
Wire nuts
Electrical tape
Mechanics Ratchet + sockets + extender
Work glove
Heavy duty rubber gloves
Digital camera
STEP-BY-STEP REPLACEMENT GUIDE
Turn off air conditioning / heat from the thermostat.
Remove battery from the thermostat (or disconnect thermostat altogether).
Turn off power at the main electric panel.
Turn off the emergency HVAC shutoff switch
Remove top and bottom cover panels on the air handler / furnace unit (fig.5.1).
Take detail pictures of where everything is located, including wiring setup from the motor, capacitor and controller (fig.5.2).
WARNING – CAPACITOR WILL BE HIGHLY CHARGED EVEN WHEN THE POWER IS TURNED OFF. DO NOT CROSS CONNECT OR TOUCH TERMINALS
Remove top 2 metal screws holding the door switch with 5/16" hex wrench (fig.5.3, fig.5.4).
Remove bottom 2 metal screws holding the controller with 5/16" hex wrench
Slide out the controller. Attached wires may be short so you may need to rest it on a box of some sort next to the air handler / furnace (fig.5.5).
Take another set of pictures, taking special note on how capacitor wires are attached (fig.5.6).
Wear a heavy duty rubber glove to remove the capacitor by first sliding off the rubber boot the disconnecting the wires (fig.5.7). Set aside the old capacitor – you can either manually discharge it or let it sit around for awhile.
Remove two screws holding the fan shroud using a 3/8" socket (fig.5.8).
 
NEXT >> How to Replace a Trane Blower Motor – Part 2
 
RELATED POSTS
How to Replace a Trane Blower Motor – Part 1