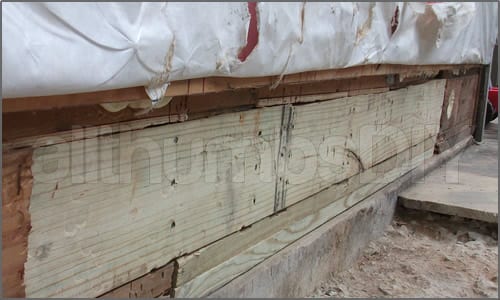 Part IV of the article series describes the removal and replacement of a rotted rim joist and sill plates with new pressure treated lumber.
Please note that this is more-serious-than-normal DIY project. It can potentially cause severe property damage and injury or death!
How to Replace a Rotted Rim Joist and Sill Plates is a multi-part series article, broken into
Part 1
,
Part 2
,
Part 3
, and Part 4 (you are here).
REQUIRED TOOLS AND MATERIALS
Various crow bars
Claw / mash hammer
Framing square
Circular saw
Wood chisel
Work gloves
Eye protection
Reciprocating saw
Sill seal
Tube of caulking / caulking gun
2 1/2″ Deck Mate Screws
5/8″ Wedge anchor
ALLTHUMBSDIY STEPS
Step 1 – Remove the loosely installed strip of 1/2″ plywood (fig.7.1.d) covering the rotted rim joist and sill plates. (fig.7.1.a=Tyvek house wrap, fig.1.2.c=basement wall)
Step 2 – With concrete patio out of the way, I can now take a better assess the water damage. As expected, the bottom sill plate in this section is pretty much gone and so is most of the top sill plate (fig.7.2). Rim joist doesn't look too bad but I need a closer look.
Step 3 – A closer look at the rotted sections reveal bunched up soft materials? What the heck?! (fig.7.3)
Step 4 – With debris removed, I can indeed confirm that there was enough space for a small animal to take up residence (fig.7.4)
Step 5 – In order to take a full view of the rim joist, I took my trusty old Black and Decker corded circular saw and set the depth slightly less than 3/4″ thick. Then using a combination of a torpedo level and 6 ft level, I drew an outline of a long rectangle on the 3/4″ exterior plywood for removal.
Step 6 – With additional plywood out of the way, I could now see the affected area in its entirety. What I saw was a significant rot on the top part of the rim joist due. This is most likely due to the fact that the old kitchen door sill used to rest on the deck with absolutely no flashing. In addition, I suspect that lag bolts from the deck header probably allowed moisture to collect at the rim joist. Again, with not even a minimum flashing would have allowed a ton of water penetration. The old adage of "they don't build like they used to" does NOT apply here. Truly an epic failure on the part of previous owner and/or contractor.
Step 7 – Using a combination of circular saw, crow bar and wood chisel, carefully remove small sections at a time. Note (fig 7.8) how years of moisture disintegrated a large portion of the rim joist.
Step 8 – With rotted rim joist out of the way, I tackled removing the rotted top sill plate next by marking the cut with my metal speed square.
Step 9 – I then used my Porter Cable reciprocating saw to cut the top plate as well as cut the toe nails (from floor joist to top plate). Rather than using my stock reciprocating blades, I used a Milwaukee AX blade which had substantially thicker and taller profile, giving me increased stability while cutting.
Step 10 – When I removed the top plate, I was surprised how the bottom sill plate was virtually non-existent (fig. 8.4, fig.8.5 and fig.8.6)
Step 11 – With rotted sections removed (and the first floor joists "free floating" at this point), I went down to the basement and check the height to make sure that everything was stable (and they are)
Step 12 – After tidying up the work area, it's fairly easy 1-2-3 steps to install new sill plates and rim joist. First, I laid down Sill Seal to prevent air penetration between the bottom sill plate and basement wall
Step 13 – Cut the bottom sill plate to correct length and test fit.
Step 14 – Cut the top sill plate to correct length and test fit. But due to structural settlement, the top plate will not go in as-is. I did not want to take a risk of possibly cracking my kitchen granite counter top so I decided not to raise the floor to a true level. Instead, I decided to notch the top sill plate by about 1/8″ inch. You can either use a wood chisel or circular saw.
Step 15 – Because sill plate ends will NOT have floor joists resting on them, I wanted to add two concrete anchors (one at each ends of sill plates) to further secure my sill plates so I drilled a hole using 5/8″ rotary concrete bit and my right angle Ryobi drill. I then installed 5/8″ x 8″ Red Head wedge anchors.
Step 16 – After installing both sill plates, I then attempted to install my rim joist but it is a very tight fit and will not go into place. Since I want it to stay tight to provide maximum stability to the area, I screwed on a scrap blocking piece and tap in a vertical lever to make the installation process easier (fig.9.6)
Step 17 – Before covering up the entire area with new 3/4″ exterior grade plywood, I caulked up any small gaps to ensure that the area is air tight.
With new rim joist and sill plates made from pressure treated wood and proper flashing and counter flashing, I expect to not have the same kinds of issues ever again.
CONCLUSIONS
It took a lot of planning and doing back breaking work, but the end, I got it done without costing too much money.
I hope these articles have been of some help in solving your DIY dilemma.
If you liked what you read, can you do me a favor and sign up for my newsletter? The signup form is found on the upper right hand corner of your screen.
Thanks and good luck with your DIY projects!