Bosch Dishwasher has a nifty feature called InfoLight (a.k.a. indicator light or Info-Light), where a small red LED light is projected onto the floor to indicate whether the dishwasher is running or not.
The control panel display and other lights on my Bosch Integra (Model SHX45P06UC/64) dishwasher are tucked underneath the counter top so this InfoLight feature is very useful.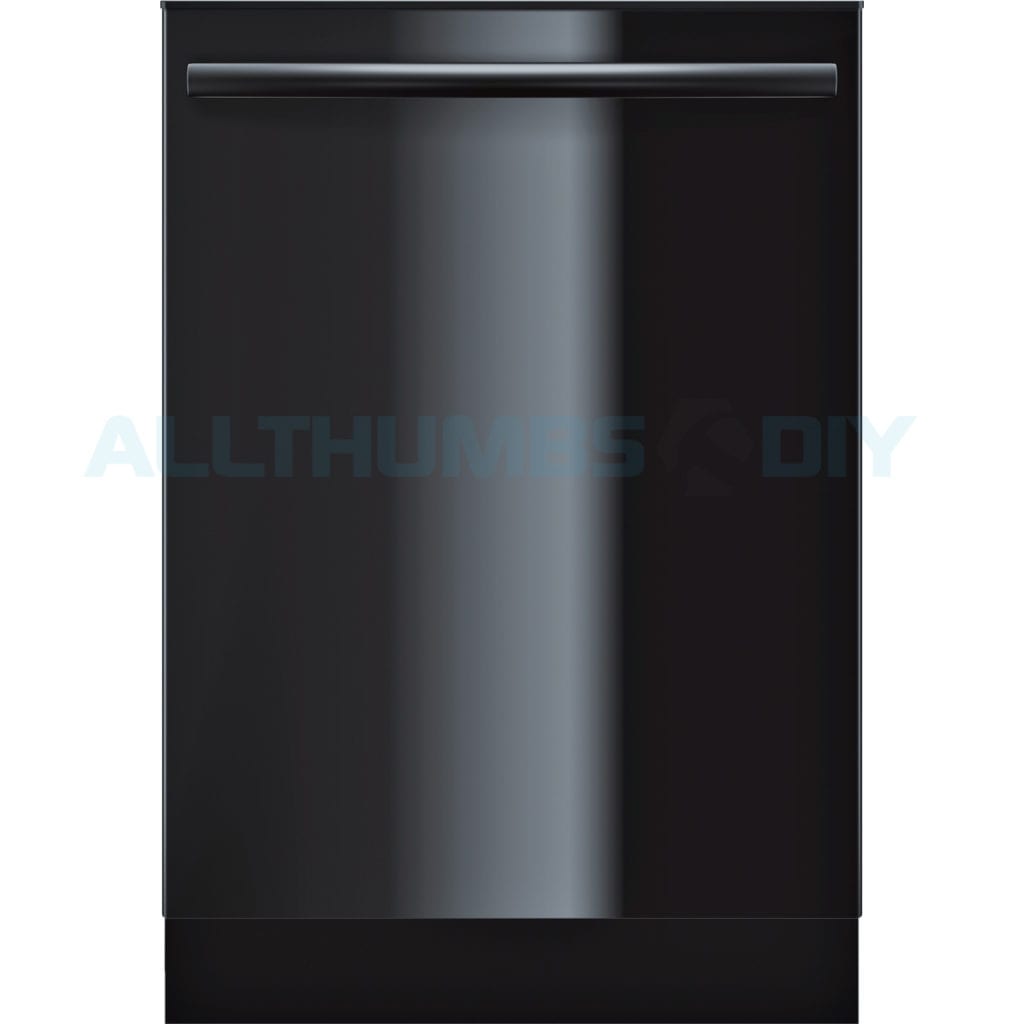 Problem
After my latest dishwasher repair (replacing my circulation pump), I was surprised to see that my beloved InfoLight was no longer working.
I knew that the light was generated by a single LED "bulb" with plastic diffuser tube so the light itself should have had a very long lifespan.
Rather than spending $30 bucks on a replacement part, I decided to take apart the dishwasher first to see what was going on.
Required Tools
Replacement part
Obviously if you do find your bulb to be broken, you need to replace it. Unfortunately, Bosch InfoLight (a.k.a. Info-Light, Statusanzeige fuer Programmende, red) – Bosch OEM Part # 424819 is rather hard to find.
If you buy one elsewhere, please remember that an "OEM authorized part" does not necessarily mean a "Genuine OEM part"
Step-by-Step Instructions
STEP #1 – Turn off the circuit breaker to the dishwasher
STEP #2 – Turn off the water supply via shutoff valve
STEP #3 – For this particular Bosch dishwasher model, the entire door cover assembly comes off as a single unit so roll up 3 or 4 thick beach towels for support (I ended up using my leg)
STEP #4 – Open the door all the way down (door should be PARALLEL to the floor)
STEP #5 – Place rolled up towels (or legs) under the door for support (Fig. 2.1)
STEP #6 – Using a T20 Torx bit, remove 8 screws from the door perimeter (4 on the left, 4 on the right, 4 on the top); place them in a bowl (Fig. 2.2) ; Keep track of these screws as they they are expensive to replace. I use Titan Mini Magnetic Tray (Model TIT11061) which works great;
STEP #7 – You will need to remove 2 additional Torx screws (Fig. 2.3; one screw on each side, facing perpendicular to the perimeter edge);
STEP #8 – Place a dish towel near the latch locking mechanism so the door assembly won't slam shut
STEP #9 – Gently slide the door cover assembly towards the top for 1/4″ to disengage the cover from the door
STEP #10 – Gently separate the cover from the door assembly and place it on the floor (remove support towels or your legs at this point). Slowly pull up the door assembly upright towards the dishwasher. Make sure to control the door movement as it is now lighter without the cover assembly so the door springs will feel stronger; Please note that there are multiple wires attached between the door cover and door assembly
STEP #11 – Disconnect 3 wires as shown
STEP #12 – Please note in Fig 3.2, I applied a small piece of black electrical tape to indicate the original plug orientation
STEP #13 – Locate the Info-Light (Fig. 3.3; lower right hand corner on the door assembly)
STEP #14 – Using the same Torx bit, remove one hold-down screw from the InfoLight assembly
STEP #15 – Crimp both side of the push tab to remove the bulb from the door;
STEP #16 – This "bulb" is nothing more than a single LED light with diffuser attached to it; it is rare to have a LED light go bad but stranger things have happened so if you see a burnt mark on the diffuser, you will need to you will need to replace it;
STEP #17 – If the light bulb checks out, look closely where the light bulb is located. In my case, a small piece of insulation (Styrofoam) broke off and it was blocking the light path
STEP #18 – Take some damp paper towels and thoroughly clean up the surrounding area of dirt, hair, debris, etc.
STEP #19 – Before putting the door back together, check all wiring connections to make sure that nothing came loose during disassembly
STEP #20 – Reverse the steps to re-assemble the door;
Conclusion
Before you go, can you do me a favor? If you found this article to be useful, can you sign up for my free newsletter?
Thanks and good luck with your DIY project!