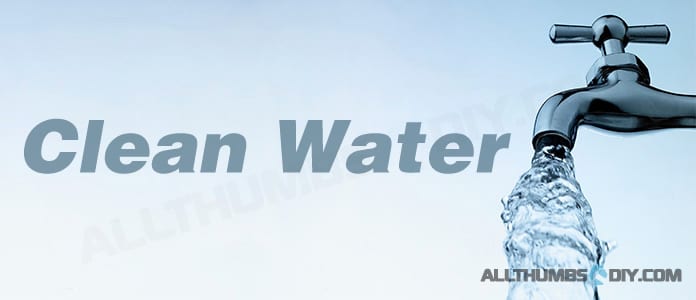 We spend enormous amount of money on bottled water every year and I hate the amount of plastic garbage this generates. I also cook a lot so I wanted readily available filtered water when washing fruits and vegetables. This article is my solution to meet these two needs.
PURPOSE
To install a high volume, high capacity, high flow under-sink water filtration system for daily cooking and food washing.
APPLICABILITY
Install in any kitchen under-sink
BACKGROUND
Before remodeling my kitchen, I used to have a dual-cartridge water filter system with a dedicated mini-faucet similar to something like a (
3M Aqua-Pure AP-DWS1000 Under Sink Water Filtration System
).
Although this setup worked well for drinking purposes, at 0.6 gpm (gallons per minute), it took forever to fill up a pot to boil pasta/rice or use it to wash fruits and vegetables.
I also did not like having a separate faucet on the counter because having the extra hole meant another possible leak point as well as more difficulty in keeping the area clean.
So when I remodeled my kitchen, I decided to replace it with a new filtration setup that had these qualities:
High-capacity / high-flow water filtration system (greater than 5 gpm);
Can be hooked up directly to a kitchen faucet;
Provide basic filtration including sediment, rust and chlorine (1)
(1) For bulk of the drinking needs, I was going to supplement the under-sink filtration with my Brita setup.
For portable water bottles, re-usable bottles like
Nalgene On The Fly Water Bottle
are the best with BPA-free construction and dual locking mechanism. My kids can drop them all day long without breaking their bottles and thre are virtually no leaks because locks stay in place.
Decision
After much researching, I ended up going with :
At 3 gpm, AP117 filter is not as fast as some of the others (i.e. Aqua-Pure's AP420 is rated for 10 gpm) but that is mainly due to AP117's ability to filter out chlorine.
Please note that Amazon's Aqua-Pure filter comparison chart is incorrect. AP420 filters DO NOT filter out chlorine.
1: Required Filtration System + Accessories
Next, you can choose either the soldering or non-soldering method.
2a: Required Materials – Soldering Method
I have listed everything I need to accomplish this project. Other than propane, I highly suggest either going to your local plumbing supply store or purchase using the provided links.
I can speak from personal experience that one retailer location will most likely not have all the items listed here and it will be very time consuming to visit multiple stores hunting for parts.
Fittings – Water Supply Side
Soldering Tools
1x, Emery Cloth
1x, Propane Fuel Cylinder (I don't recommend getting this one via mail. Visit a local box retailer; the price difference is nominal;
2b: Required Materials – NON-Soldering Method
If you do not want to solder, you can always use SharkBite fittings. Because all Sharkbite fittings should be acceptable by your local plumbing codes, but just to be sure, call and ask first.
Fittings – Water Supply Side
3: Required Materials – For Both Soldering and Non-Soldering methods
Parts in this list are needed regardless of the connection method.
Fittings – Faucet Side
General Tools
Next Steps
Now that I have the necessary parts and tools, I can begin the installation. Click on the link How I Installed High Flow Under Sink Water Filter Filtration System for My Kitchen – Installation Steps for more information.
Let's get going!