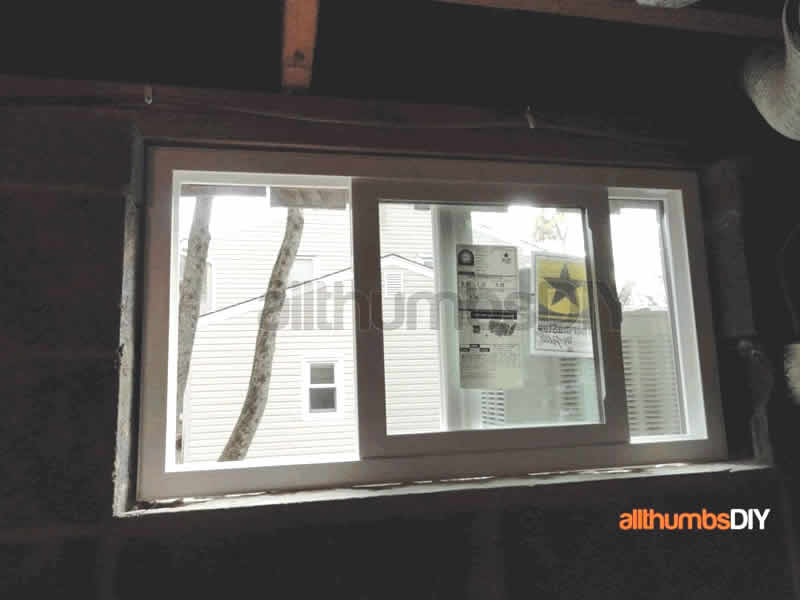 If you came to this page via a search engine, you will want to read:
REQUIRED MATERIALS/TOOLS
STEP 4 – DRY / TEST FITTING WINDOW
I am going to temporarily place my new replacement window to see how it fit
I am not too concerned about small gaps on the bottom as they will be sealed by an expanding window foam
You want a good solid bonding between caulking/foam against all surfaces so take your time and clear off any small debris /dust from the surface.
I used a can of compressed air (didn't want to use my compressor as it was way too powerful and would generate too much dust) to blow off any concrete/mortar dust before applying a beat of caulking around the header, side and bottom of the opening
Next, I used a clear caulk because it gave me most flexibility in terms of it blending it with the surrounding color. Although the caulk is white when first squeezed out, when it dried it became clear.
Also, I planned on attaching the window frame to the bottom of the sill plate so I DID NOT caulk the bottom of the window. However, I laid down 2 separate caulking tracks on the top part of the window as well as caulk line on the bottom of the sill to ensure a solid seal against draft.
Since I was skipping the window frame, I screwed in three, 2″ Deckmate screws, attaching top of the window to the house's rim joist before sealing out the gaps with a can of low expansion window foam
STEP 5 – SEALING THE WINDOW WITH EXPANDING FOAM
There are numerous types of foam sealants out on the market. You need to make sure to purchase one that is specifically made for windows and doors because foam sealants can be powerful enough to warp or bend window or door frames
STEP 6 – FINISHING TOUCHES
For the sake of image clarity, I had to use pictures from 2 basement windows
After couple of days, liquid foam has turned hard so it was easy to cut off the excess. Any sharp utility knife will do.
If you don't already own one, get a Stanley Titan Utility Knife with a fixed blade This knife has a gentle curve that save your knuckles from being shredded by a hard concrete surface.
Once the foam has been cut, take a 6 inch drywall taping knife and scrape off the excess. There are so many uses for this taping knife so dedicate one for use around the house. Any kind will do like Marshalltown Joint Knife Made with Plastic Handle and Carbon Steel Blade. Avoid buying plastic ones as the blades will not survive being scraped on a hard surface
To repair the damage, I needed a bag of mortar mix. Because this was my last window, I decided to purchase a small, ready mix bag from a local big box store. I don't recommend buying this online due to shipping cost though Sika Corp. 05MG060 Sika Mix & Go
When mixing mortar, ALWAYS add less water than the stated amount. You can always add more water later.
if you have too much water, the only way to fix it is to have more dry mortar to mix in
As far as the consistency is concerned, think about a peanut butter jar that has been sitting out. Very easy to spread, but not drippy.
If you have a large chunk to repair, you will need to do it over the course of several days by adding a layer each time.
If you were to place a large amount of wet mortar in one place, it will most likely droop as well as form a crack.
The pictures I have is from my coating and you can see the depression on the left side of the window. I will be revisiting the window when the weather gets little bit warmer to add a final coat

SUMMARY
I am going to let the mortar dry out for about a week or so before fixing the corner.
After that, I will prime and paint the area to match the rest of the foundation.
Well, that's it. If you found this article to be helpful, please click on one of the social icons to share it with your family and friends!