With the cold weather fast approaching in the Northeast U.S., I decided to finally replace my leaky basement windows.
I found a basic how-to video at This Old House, but it did not contain any information about a concrete sill that was that built up right up against a basement window so I am going to share what I learned from that project.
Please note that at the 1:04 mark, a popup states "Use minimal expanding foam, which won't buckle the window". But if you look at what Tom is using, it is a Great Stuff in a RED CAN which is not recommended by the maker, Dow Chemical. The correct product comes in a BLUE CAN which is intended to be used in sealing doors and windows.
Introduction
I have done plenty of window replacements in the past but they were all designed to be dropped in (minus few new construction windows with frame enlargements).  My biggest worry was that once I started the demolishing mortar and concrete around the window, my foundation wall would somehow crumble.
So what convinced me to try it anyway?  Several quotes from local contractors who wanted to charge me on average of $400 per window!  In addition, I figured I had enough DIY experience to overcome any challenges.  Hopefully you can gain some confidence (and save money) by reading and doing this project yourself.
Assessment
I had to replace total of 4 basement windows.  They were the old fashioned awning windows with windows hinged to the head jamb, and opened inward (see fig 5.1 – Awning). My windows frames were set directly on to the concrete foundation, secured by nails to the top head jamb / sill plate and construction adhesive on both side jambs / concrete foundation blocks.
Please purchase a window as intended by a manufacturer because window sills and weep holes are designed to shed water in one direction. For example, it would be bad idea to buy an awning basement window and install it upside down as a hopper basement window.
There were several large gaps around the window frame parameter, which were probably created from years of expanding and shrinking caused by wood frames having direct contact with concrete/mortar (I think concrete and mortar hold moisture which in turn can be absorbed by wood.  Any swelling due to moisture and subsequent drying can and will shrink the wood frame).
I decided to go with a vinyl basement slider window versus steel or wood (fig.5.3 – slider) because I felt that it would offer better protection against additional moisture (i.e. rain water bouncing off the ground).
Planning
Installing a vinyl basement slider window into a wood frame meant that the glass area would be reduced significantly, resulting in reduced ambient light into an already dark basement.  In addition, due to large gaps with air penetration I thought it would be best to completely remove the window frame and install a replacement window directly into the concrete opening.
Before getting started, you should check to make sure that you have all necessary tools and materials before starting this project.  There is nothing more frustrating that to to run out to buy tools or supplies while there is a big open hole in a wall.
Purchase
Taking measurement was a straightforward process. Like anything else, please make sure to take THREE separate measurements before placing the order. If you want some basic guidelines on how to measure for a replacement window, read my post "Installing Replacement Windows Part 1 of 3".
Most vinyl window manufacturers will automatically shrink your dimension by 1/4″ (quarter inch) to allow insulation. That means you need to ensure that your rough opening must be square to allow for proper installation. If your window opening is NOT square, you may have to shrink down your measurements further which might result in larger gap. Please notify the salesperson at the time of ordering of your situation.
Also, please assume that all basement windows are different in size, even if they look identical. There is nothing worse than having a huge hole in a basement wall and find out that your basement window would not fit (not to mention you probably cannot return it for a refund)!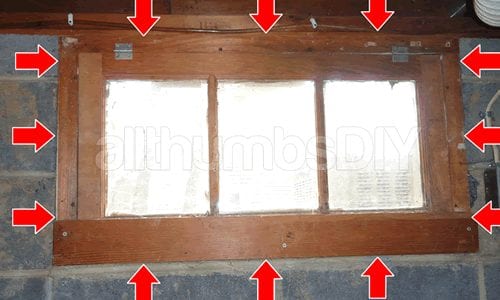 While you are at the store, make sure to ask for any requirements to qualify for tax credits (for example, when I purchased my picture window replacement, I had to order it with a grill to receive the tax credit). In addition, save your sales receipt along with any brochures containing the window performance data.
Next Steps
In my next post, Replacing Leaky Rotted Basement Windows – Part 2 of 3, I show you tools and methods I used to removed the wood frame and exterior mortar sills.