Makita HM1214c (UPC Code 088381-603669) is Makita's medium duty electric demolition hammer with anti-vibration technology:
Powerful 14.0 AMP motor to handle the most demanding applications
Anti-Vibration Technology is an internal counterbalance system that greatly reduces vibration and directs more impact energy to the work surface for increased user comfort and greater productivity
Constant speed control automatically applies additional power to the motor to maintain speed under load to complete the most challenging jobs
Soft start suppresses start-up reaction for more control and better accuracy
Variable speed control dial enables user to match the speed to the application for greater versatility
L.E.D. service light notifies the user approximately 8 hours before the brushes need to be replaced
L.E.D. power light indicates switch failure or cord damage
Makita Motor Advantage engineered with field core interlocking steel laminations, dual ball bearing armature and more copper commutator bars, increasing energy transfer efficiency for more power and longer tool life
Extended life brushes are longer for more work between service intervals and less downtime
12 bit angle settings allow the bit to be set at different positions for operating convenience
Automatic brush cut-off protects commutator from damage for longer tool life
"No hammering when idling" function helps increase tool life
One-touch chuck allows for quick bit changes
Easy-to-operate slide switch increases productivity and allows for continuous use
Rubberized ergonomic soft grip provides more comfort and control
Side handle swivels 360° for greater control
Accepts SDS-MAX bits
The price for a 24 hour rental was $90, which included 2 drill bits (bull point and flat chisel with SDS-Max shanks). Weighing at 27 lbs, it's not exactly light, but it is pretty powerful and can break apart large concrete chunks with ease.
SHANK TYPES

Shank is the part of the drill bit that gets inserted into a whatever-powertool.
The SDS (Straight Drill Shank) bit was developed by Bosch in 1975 and the name comes from the German "Steck – Dreh – Sitz" (Insert – Twist – Stay). German-speaking countries may use "Spannen durch System" (Clamping System), though Bosch uses "Special Direct System" for international purposes.
Relatively complex to manufacture
Superb hammer drilling performance
Drills with a "rotation-stop" mode can use chiselling bits
One-handed quick chucking operation
Can only be held in an SDS chuck
Not very accurate centering
High torque transmission
The SDS-Max has the advantage of a simple spring-loaded chuck, so that bits can be chucked with a simple and quick hand action. Further, the shank and chuck are uniquely suited to hammer drilling in stone and concrete. The drill bit is not held solidly in the chuck, but can slide back and forth like a piston. The hammer of the drill acts to accelerate only the drill bit itself, and not the large mass of the chuck, which makes hammer drilling with an SDS shank drill bit much more productive than with other types of shank. So, SDS shanks are most often seen on masonry drills, for which hammer drilling action is most helpful (wikipedia).
DRILL BIT TIPS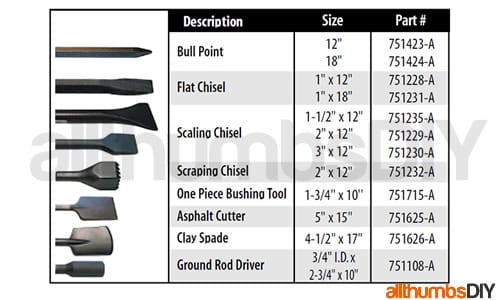 Like many other manufacturers, Makita makes a variety of drill bits for different purposes. For breaking apart large concrete masses, I rented a bull point and flat chisel drill bits.
It might have been useful to also have rented a scaling chisel but Home Depot was out of stock at the time.
RENTAL EXPERIENCE
I give high marks to Home Depot for maintaining their equipment and keep them clean. I have yet to have any instances of equipment failure.
PERFORMANCE
Other than it being a bit cumbersome to maneuver, I was very happy with the performance. Because the concrete was poured right next to the basement walls, I was concerned about vibrations being transmitted into the house, possibly loosening my lolly columns. Those fears were unfounded as Makita HM1214C was just powerful enough to chisel away concrete without shaking up the entire house. It did take about a full day to remove 5′ x 5′ x 9 inches of solid concrete, but it was probably because I was being overly cautious.
One thing to keep in mind is that this electric demolition hammer draws a quite a bit of load. So in order to maintain that high performance, use Prime EC600825 Extra Heavy Duty 25-Foot Outdoor Generator Extension Cord 3-Conductor Triple Tap
, not one of those skinny extension cords.
REFERENCES
Makita USA (http://www.makita.com/en-us/Modules/Tools/ToolDetails.aspx?ID=316375)
Makita HM1214c Owner's Manual (http://www.makita.com/en-us/Assets/Output/DownloadFile.aspx?FileName=Products/HM1214C/owners_manuals/OM_HM1214C.pdf)