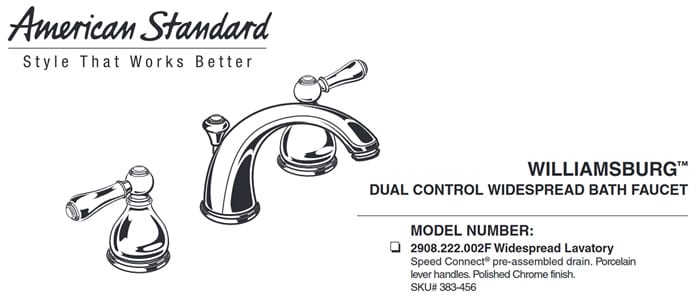 Man, April/May has been tough; lots of things are breaking and needing repairs and I am having tough time keeping up with all these issues.
After replacing my hot water heater, I noticed that my American Standard Williamsbug (Model 2908) faucet is now starting to leak.
My house has city water (that comes from a 400 ft deep local well) and I am starting to wonder if there were some changes going on with my water?
Anyway, I just ordered two, American Standard 994053-0070A Cartridges (click here to see it at Amazon) today with same day delivery with Prime.
Though the leak is only on the cold side, I purchased two to save some time because it's only a matter of time before the other side fails.
In addition, my turn off valves are compression style and they seemed to be frozen in place with mineral built up. I am going to cutoff these and replace them with a 1/4 turn ball valve with push connect that is similar to Sharkbite (click here to see what I bought from Amazon).
I will post a follow up article once I complete my repairs.
Wish me luck! I need a break from making all these repairs!

Related Links