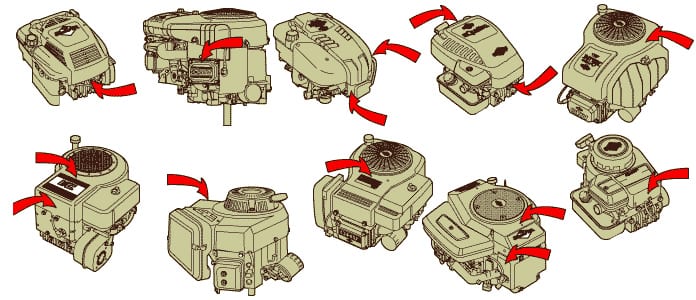 Ever since Tecumseh went out of business, Briggs and Stratton has pretty much been supplying their engines to the entire outdoor power equipment industry.
Briggs engines can be found almost in every OPE space, including mowers and snow blowers.
Although snow blower manufacturers include a service manual with some cursory engine information, you need to visit Briggs and Stratton to get more detailed information for your particular small engine.
But first, you will need to take a closer look at the engine on your OPE to get the exact model and engine code.
If you arrived on this via search engine,
click here
to visit my John Deere 1330se Snowthrower Resource page
For John Deere 1330SE, the engine code is stamped on the side of the OHV cover (as seen below). After obtaining this information, you simply need to visit Briggs and Stratton Support Site (external link to Briggs and Stratton) and plug in the engine code:
Once you input the necessary information, you will be presented with a screen with operating manual (in multiple languages) and an illustrated parts list. At that point, you should have enough information to deep dive into troubleshooting your OPE small engine.
For John Deere 1330SE with 21M314-0118-E1 stamp code, the correct manual is this one (external link to Briggs and Stratton)
Wrap Up
Please note that this engine manual lookup works for all your Briggs and Stratton engines found not just on snow blowers, but on mowers, riding tractors, etc.
If you found this article to be helpful, can you do me a favor and sign up for my free newsletter? The form is located on the upper right side of the screen.
Thanks and good luck with your repair!