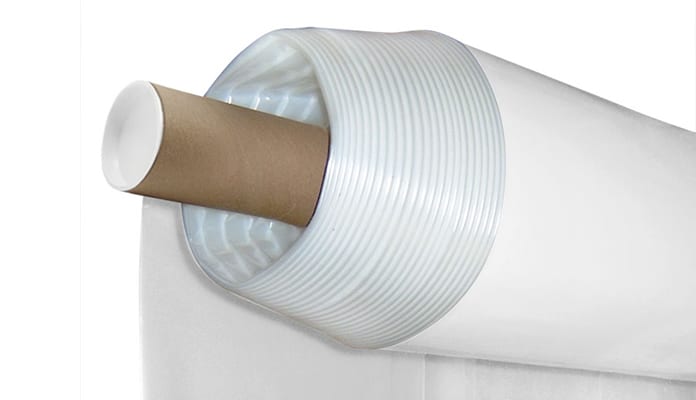 Polyethylene (Plastic Sheeting Liners or plastic "poly" sheet) is classified into several different categories based in part on its density and mechanical properties. The most prevalent grades of polyethylene sold is HDPE, LLDPE and LDPE:
High Density Polyethylene (HDPE) has minimal branching of its' polymer chains. Because it is denser it is more rigid and less permeable then the LLDPE. It has a density of 0.941-0.965 g/cm3.
Medium Density Polyethylene (MDPE) is less dense than HDPE and has good shock and drop resistance properties. It also is less notch sensitive than HDPE. Stress cracking resistance is better than that of HDPE. MDPE is typically used in gas pipes and fittings, sacks, shrink film, packaging film, carrier bags, and screw closures. It has a density range of 0.926–0.940 g/cm3
Low Density Polyethylene (LDPE) has a significant numbers of short branches. Because it has shorter and more branches its' chains are able slide against each other upon elongation without becoming entangled like LPDE which has long branching chains that would get caught on each other. This gives LLDPE higher tensile strength and higher impact and puncture resistance than the LDPE. It has a density of 0.91-0.94 g/cm3.
In addition to the material composition, plastic sheeting also comes in a wide range of thickness. This thickness is indicated as MIL (thousandth of an inch).
1 MIL is a measurement unit that equals 0.001 inch which is about the width of an average human hair. Generally speaking, higher MIL designation equates to a thicker and strong plastic sheathing.
| Rating | Thickness |
| --- | --- |
| 1 MIL | 0.001 inch |
| 3 MIL | 0.003 inch |
| 6 MIL | 0.006 inch |
| 9 MIL | 0.009 inch |
 
The most common plastic sheeting sizes found in local hardware stores are 2, 3, 4 and 6 MIL poly sheets.  Some of the most common uses are:
2 MIL – use as covers when painting / drywall sanding;
3 MIL– temporary wall (i.e. zipwall containment)
4 MIL – moisture and vapor barrier, mulching, weather protection, concrete curing;
6 MIL – backyard ice rink cover, heavy duty mulch under layment, concrete slab vapor barrier, opening cover;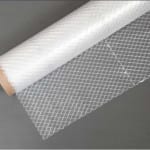 An alternative method of increasing the strength of plastic sheeting is to add one layer of polyester string reinforcement scrim between two layers of linear low density polyethylene (LLDPE) sheets.
The added string within the plastic will give it added strength, making it significantly stronger and more tear resistant than standard 6 mil poly films.
If you have a roll of left over poly sheeting and it is not tall / wide enough for your project, you can join two pieces together by using a reinforced weatherproof tape like this 3M Scotch Transparent Duct Tape
(note: you cannot use this in underwater applications).
Final Thoughts
Plastic sheathing is so versatile, I have multiple MIL sheets on hand at any given time for my DIY projects.
I ended up using a 6 MIL 25 x 100 plastic sheet roll when I built my backyard rice rink and it worked great (click here to read my post First Time Building a Backyard Ice Rink). Trick is to buy either clear or opaque liners. Any other color, including black or blue tarp will trap heat, making the rink melt faster AND you will kill the grass underneath!
Well, I hope you found this post to be of some help with your project. If that is the case, can I ask for a small favor and ask you to sign up for my newsletter? A sign form is found on the upper right side of the page and I promise it will be spam free.
Thanks and good luck with your DIY project!