NOTE: This is an old article. An updated post can be found here – Complete Guide to Making Your Own Window Sill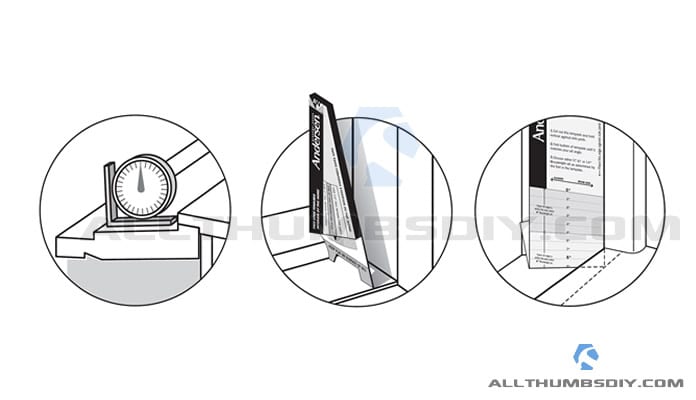 Sill Angle Measurement
Having an accurate window sill angle measurement ensures tight fit with windows and more importantly, minimizes water infiltration via wicking. Some replacement window manufacturers like Andersen has 3 sill angle choices so providing Andersen with accurate angle measurement will ensure good fit.
So what is the correct angle for a sill? In general, a window sill should have 3-12 or 3″ by 12″ slope or pitch for good rain drainage. 3-12 slope means that for ever 12 inches of horizontal distance (run), the vertical measurement (rise) is 3″.
Looking at Table 1.1, this corresponds to 14 degrees of slope. There are three easy ways of measuring this sill angle:
Inclinometer; or
Torpedo level and 2 ruler sticks; or
Small Framing Square and 1 ruler stick
Method 1 – Inclinometer
An inclinometer or clinometer is a simple instrument for measuring angles, slopes or tilt. It is also known as a tilt meter, tilt indicator, slope alert, slope gauge, gradient meter, gradiometer, level gauge, level meter, declinometer, and pitch & roll indicator. Clinometers measure both inclines (positive slopes, as seen by an observer looking upwards) and declines (negative slopes, as seen by an observer looking downward).
In our case, using an inclinometer is the simplest and fastest way of measuring the angle of a window sill. You can buy one (see fig.6.1 and click here to read AllThumbsDIY inclinometer reviews and recommendations), use a paper template (fig.6.2 – click to download the PDF template) or a cardboard angle finder (fig.6.3). The last two are provided free by Andersen Windows (To obtain the one in fig.6.3, you have to visit one of their retail locations – call ahead to confirm that they have one in stock for free).
Please note that both mechanical or electronic inclinometers are far more accurate and can also be used in other settings (like when setting a blade angle on a table saw, etc.) whereas the paper angle finder is less accurate.
Method 2 = Torpedo Level and 2 Rulers
Another method is to use a torpedo level and 2 small ruler sticks to measure the angle.
However, unlike an inclinometor, you *MAY* have to remove any exterior storm windows and storm window frames to get the necessary clearance to get the accurate measurement. Please note that if your window sill has 2 surface levels, the vertical ruler must rest on the uppermost level.
To calculate the appropriate angle, simply place 1 ruler horizontally (use a level) and read off the height from the second ruler.  You can then calculate the angle by looking at the table below.
| Rise | Run | Sill Angle |
| --- | --- | --- |
| 1/8″ | 2″ | 4 degrees |
| 1/4″ | 2″ | 7 degrees |
| 3/8″ | 2″ | 11 degrees |
| 1/2″ | 2″ | 14 degrees |
Method 3 – Framing Square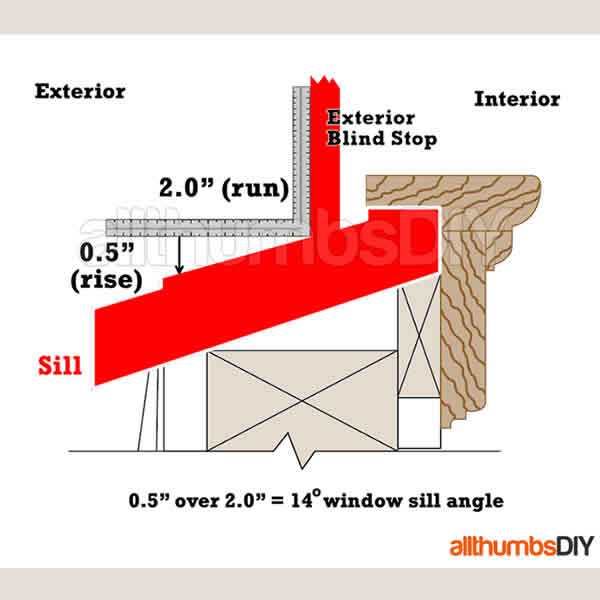 Another alternative method is to instead use a small framing square against the outside blind stop.
This way you don't have to fuddle around with a level and 2 ruler sticks. However, you are assuming that your blind stop is truly plumb (vertical).
Once you obtain the measurement, please use the table above to calculate the sill angle.
NEXT >> How To Make Your Own Window Sill – Part 3
 
Related Articles