Fixing a leaking roof on Subaru Outback can seem daunting with many repair videos showing you taking off bunch of interior trim pieces before removing the headliner to begin troubleshooting the problem.
Depending on the severity of your leak, you may have to do all this but I am here to tell you that you first do some simple troubleshooting which may solve your leaking roof problem.
With stories of people paying $400+ to fix their leaking Subaru's, I think it's worth trying to solve this problem yourself and I promise you, the steps outlined in this post are fairly simple and inexpensive.
One thing you do not want to do is procrastinate fixing this leaking problem and have it turn into bigger problem (i.e. electrical shorting, mold, water stains, etc.)
Background
As of this writing, our 2010 Subaru Outback has been a solid performer. Yes, we had our share of recall repairs but overall, we are very happy with the build quality of the vehicle.
So when we got in the car one morning, it was shocking to see few water droplets falling from the center overhead console.
Oddly enough, when I felt around the roof edge near the windshield area it was dry so I guessed the leak was coming from the sunroof area.
We were short on time so we decided to place a small towel underneath the dripping spot and while we did errands. If I wasn't so angry at the time (water dripped on my legs at one point), I would say it was comical!
I guess water had pooled in the sunroof channel area because whenever we made turns, water started to drip on the opposite side. That meant if we made a left turn, water would drip from the passenger side A-pillar. If I had to make a sudden stop, the roof leak would drip from both A-pillars as well as the center overhead console.
What Causes a Leaking Roof on Subaru Outback?
Apparently, all fourth generation Subaru Outbacks (2009-2014) that came with sunroofs have two drain holes near the front.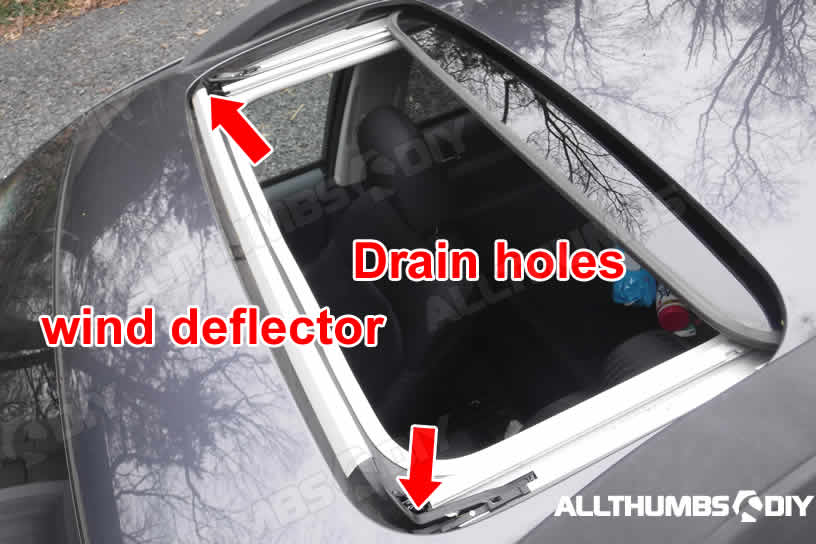 Much like rain a gutter system on a house, the channel between the two drain holes direct water to either side (foam piece in the middle acts as a divider to shorten the traveling distance) to expel water down the hose.
The problem is that dirt and pollen tend to cake around this area over a period of time so unless you are mindful to keep it clean, some of those dirt/pollen combo pieces can and will break off from the surface, float down and ultimately block these drain holes or hoses.
APPLICABILITY
The repair steps shown here to to fix your leaking sunroof should work for all fourth generation Subaru Outback (2009-2014) with sunroof.
MATERIALS and TOOLS
STEPS
Park your vehicle on a flat surface with plenty of space to open front doors wide
Open the sunroof and turn off the car
Setup step ladder on the driver side
While manually holding down the wind deflector, use the flashlight to locate and examine the drain holes
Please note that the drain holes are tucked in tight so you will most likely have a difficult locating them. If you cannot visually locate them, take some close-up photos with your camera/phone to see if you can get a closer look.
Below is a picture of the drain hole (red circle) on the passenger side. Please note that there is a quite a bit of caked on dirt/pollen.
Pour a small amount of water (5 tablespoonful or so) near the drain hole. If the water drains out quickly, your drain hole is CLEAR so you should test the other side. If it does not drain or drain slowly, you will have to clear out the drain hole.
Much like in surgery, you want to remove all debris around these drain holes BEFORE actually attempting to clear them.
The reason for this is so that we do not break off these caked particles and accidentally clog our drain holes.
Also, you may note the the use of Clorox/Lysol wipes instead of using Windex + paper towel combo. Because there are lots of sharp edges, I did not want to take a chance of paper towel ripping and causing problems.
I also found these wipe sheets to be highly durable and effective at leaning dirt
Using Clorox wipes, gently wipe clean all area, including the underside of the wind deflector. Wind deflector is in the down position when the sunroof is closed which means it comes in contact with draining water quite often. Just look at the amount of dirt that was removed from the underside (see below):
After cleaning the entire area, now we can use Q-tips to gently remove dirt stuff around the drain holes.
Once we are confident that drain holes are clean, we can use the pipe cleaner to gently scrub the inner drain tubes.
Please note that drain plastic hoses can become brittle as they get older so you want to be careful when inserting the pipe cleaner (i.e. not just shove it in).
Take a pipe cleaner and bend the tip over by about 1/4″. Then using your finger tips, crimp it down so that the end is flat. This will ensure that the sharp wire end does not poke the plastic hose. You also do not want the end tip to look like a candy cane ("hook") so that it won't snag something when being pulled out.
Gently insert the pipe cleaner into the drain hose while slowly rotating it to get a good scrubbing action
The pipe cleaner will encounter resistance at around 5 to 6 inch mark (there is a sharp bend at this point) so stop at this point. DO NOT ATTEMPT TO PUSH THROUGH. Again, while rotating the pipe cleaner, gently pull it out.
When I pulled out my cleaner, I noticed a lot of small debris, including what appears to be a parts of a dried out spider legs!
If you find that the hole is still clogged, you may want to use a weekwacker line (it comes in a spool so you can thread it in longer)
When both drain holes are cleaned, pour some hot water (not boiling) to visually confirm that water quickly drains to the ground.
Both drain hoses end up with front mud flaps
Repeat the steps # 5 – 13 on the passenger side.
As an added preventative measure, I poured some winshield fluid down the drain to hopefully minimize future build up. This may also reduce the change of your hose freezing (if clogged).
Lastly, we want to make sure that there are no other problems contributing to our leaking sunroof on Subaru Outbacks.
Once both drain holes are clear, close the sunroof and pour about 3 glasses water on each side of the sunroof. Once surface water has drained away, open up the sunroof and visually inspect the area
The only part that should be wet are the rain channel between drain holes and of course, drain holes. If you see water pooling anywhere else (i.e. marked "potential problem" in the picture above), the seal around the sunroof door might be failing. The seal replacement is a more in-depth project so I am going to keep a close eye on the leak for now.
End Result
I am happy report that I have had no further roof leaks for my Subaru Outback since the repair (and feel free darn good about saving some serious cash too!)
As far as removing the water stains are concerned, gently run the area with a Clorox sheet (the same one I used to clean the outside dirt) and let it dry out.
Hope you found this article to be helpful. Please leave me a comment about your experience!
Good luck!
Kevin
Reference Links