<
First of all, I LOVE my Bosch Integra dishwasher (Model SHX45P06UC/64). It is truly an awesome workhorse, handling multiple uses throughout the day for a family of 4 (both my wife and I work from home and we have 2 young children so you can guess why).
Compared to my less-than-desirable experience with a GE Profile dishwasher (you can read about them here and here), my Bosch dishwasher has been a reliable "tank".
Now, I did/do have some repair issues but I think that is a function of:
Frequency of use
VERY hard (mineral rich) water in my house
This article show you how to troubleshoot a cloudy standing water.
PROBLEM
A little bit of standing water at the bottom of the filer basket is completely normal. What you don't want to see is this*:
*Green color was added to show the depth of standing water (~1.5″)
What began as a gradual standing water (that was clear which indicated a problem with a water shutoff valve), somehow mushroomed into a drainage problem. Even worse, the sound insulation in the front door wicked up water from inside the tub and dripped on to my kitchen floor!
If you know you need to replacement the drain pump, skip the troubleshooting steps and go here (link TBD)
TROUBLESHOOTING
Initially, I thought the water shutoff valve had failed again, but upon inspection, I saw that water was very cloudy.
A
clear or clean standing water
usually would indicate a water shutoff valve failure where water trickles into the tub after the cycle is complete.
A cloudy or dirty standing water usually would indicate problem(s) with a drainage component, such as blocked drain hose, check valve, drain pump, etc
STEP #1 – turn off electricity and shutoff water. You may want to read my dishwasher installation article (link TBD) to make it easier to service your dishwasher in the future;
STEP #2– remove the bottom rack, sprayer arm (gently pop it off), filter basket (quarter twist counter-clockwise) and the screen (not fastened)
STEP #3 – remove standing water (flexible plastic bowel works great); sop up the rest with a towel;
STEP #4 – Using T-20 torx screw driver, remove the drain pump cover screw
STEP #5 – While pushing the tab "in", gently rock back and forth to remove the cover;
STEP #6 – Check for any debris like broken glass or tiny egg shells that may prevent the impeller from turning. Also, gently rotate the impeller to see how it feels as it rotates.
Impeller is magnetically driven so it should be "springy" and should resist turning (sort of like when you try to push the same magnetic polarity together). If the impeller turns without any resistance, it needs to be replaced
STEP #7 – gently pull on the tab to remove and examine the check valve (a.k.a. backflow preventer; part link TBD); It should be free of gunk. If it's covered in black gunk, you should to replace it;
STEP # 8 – Pull out the dishwasher halfway and check to see that the drain hose is not blocked or kinked; also make sure he proper loop near the sink/food disposal hookup to ensure that dirty water from the sink/food disposal is not pushed back into the dishwasher; The hose should look clear. If it looks black or stained, which may indicate blockage, disconnect the hose and flush it out.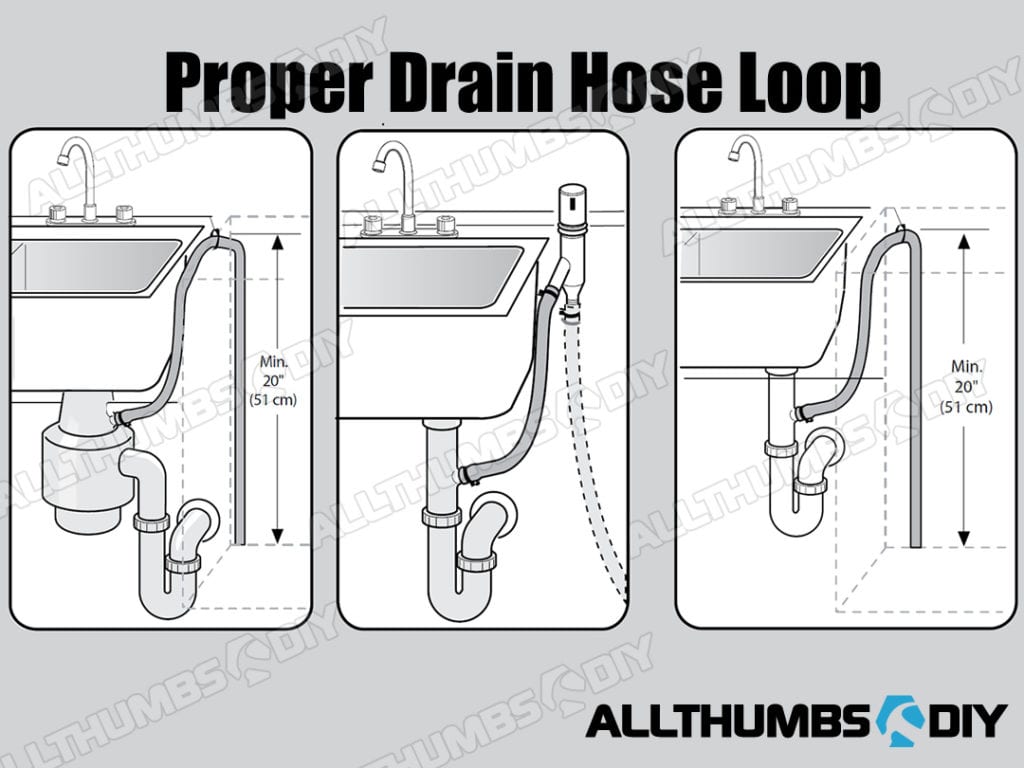 STEP # 9 – check the bottom of the dishwasher basin where all pumps and electronics are located. This basin is the last resort to catch overflow water and Bosch uses a small float to activate the drain pump. This float is located near the pressure chamber (blue thing PART #00440670). Visually check the bottom of the basin to see if there is any water. You must remove all water (use small towels to sop up water until dry) to ensure that your dishwasher will operate normally.
SOLUTION
Everything looked good for me EXCEPT the "freely" turning impeller on the drain pump. If that is your case, go ahead and purchase the OEM replacement from here (link TBD).
Please note that I do not recommend "OEM equivalent" parts, especially on these parts where water seepage can cause big problems. For example, a factory OEM drainage pump comes with a locking tab where certain third party drainage pumps do not.
It's entirely up to you how you want to make your repairs, but having gone through water damage from a broken dishwasher, I don't want to take those kinds of chances.
REQUIRED PARTS
Although Amazon has this part cheaper, I found myself confused with too many "OEM-like" parts that were not genuine (some with missing features).
So instead, I opted to pay extra money and get it from AppliancePartsPros.
Bosch Drainage Pump – OEM Part # 00642239 (replaces part #00184178, 00167082, 167082-REPL, 1387293, 184178, 642239, AH3479214, EA3479214, PS3479214, PS8729769) for Bosch Integra SHX45P06UC/64 (Buy Here)
Bosch Wire Connector – OEM Part # 00623143 (replaces 2120902, 623143, 668344, AH3502739, EA3502739, PS3502739, PS8728832, B00CDT13TS); you probably end up not using this but there is a small chance that you might; for less than $2, just look at it as a cheap insurance to get your repair done in time (Buy Here);
REQUIRED TOOLS
T-20 Torx Screwdriver
Phillips/Flat screwdrivers
Towels
DRAINAGE PUMP REPLACEMENT STEPS
Unlike some repair videos, my particular Bosch Integra SHX45P06UC/64 model requires removing the door panel cover to access the drain pump.
STEP #1 – Repeat Troubleshooting steps #1-5 to remove water;
STEP #2 – Remove the toe kick panel
STEP #3 – Remove door panel screws first, then disconnect most wiring connectors (there are some that cannot be easily disconnected so leave them in place); carefully set the door aside
STEP #4 – Disconnect the drain hose (place towels underneath to catch water; there will be about cupful of water) by gently pulling it away from the drain pump;
STEP #5 – disconnect wiring connector;
STEP #6 – firmly grab the drain pump and while pressing down on the locking tab on the bottom, turn it clockwise for a 1/4 turn to remove the pump;
STEP #7 – install new drain pump by turning it 1/4 turn counter-clockwise; reverse installation steps to reassemble all parts;
FINAL WORDS
With the new drain pump replaced, my dishwasher was once again working with that satisfying "whooshing" sound.
If you found this article to be helpful, can you do me a favor and sign up for my newsletter (form is on the upper right side of the screen). Thanks!