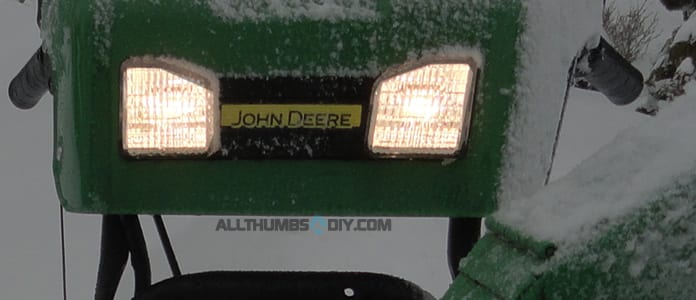 I used to think that headlights on a snowblower was a waste of money. That is until I had to clear snow every 2 hours during the night to keep up with a blizzard. Without these headlights, I would have been fish out of water.
However, as is the case with most light bulbs, these bulbs don't last forever so I am going to prepare and outline my plan of action when I have to fix a non-working headlight in the near future.
Purpose
How to troubleshoot, repair or replace a broken headlight on a snow blower.
Applicability
This solution should apply to John Deere 1330se, Simplicity L1730e, Murray 1330se and other similarly equipped models.
Required Tools
Flat and Phillips screwdrivers;
Multimeter (don;t have one? read my quick review here)
Replacement Parts
Before diving into troubleshooting, let's review some parts.
Item #
Part #
Descriptions
0010-00
1739686YP
Light bar assembly
0010-10
n/a
Lense, RH, not serviceable, included as part of item # 010 assembly
0010-20
n/a
Lense, LH, not serviceable, included as part of item # 010 assembly
0010-30
1739689YP
Lamp, Halogen, 12V 20W
0010-40
1736180YP
Socket, Twin Light (1)
0010-50
n/a
Gasket, Single, Twin Light (Included in Part# 1736190YP)
0010-60
n/a
Bezel, light panel, not serviceable, included as part of item # 010 assembly
(1) Older (original) parts manual stated that these sockets were only available as part of a large light assembly. However, you can now purchase these sockets individually (Briggs and Stratton part# 1736180YP).
Wiring Harness
Thankfully, wiring connections are fairly straightforward. Unfortunately, I have confirmed with a JD technician that John Deere never bothered publishing a technician's service manual which meant no wiring schematics.
In place, I have traced the wire connections (all functions operational) and made a diagram of them for your reference.
The Augur and Handle Group Wiring Harnesses can be found in these pages:
Troubleshooting steps
STEP # 1 – CHECK THE GROUND WIRE:
Due to heavy vibration, it is not uncommon to see loose nuts and washers. Usually, if the voltage exceeds 12v, it probably means something is going on with the ground terminal.
You might consider completely removing the ground terminal from the engine, clean it with a wire brush, then apply some NOALOX before re-attaching it to the engine.
STEP # 2 – CHECK THE PLUGS:
There are 4 terminal connections to 2 lights. Check to make sure that they are not corroded and are firmly seated.
STEP # 3 – CHECK THE BULBS:
You can't really tell if a halogen bulb is good or bad just by looking at them. You need to put probes on the bulb itself using a multimeter. If the bulb is good, the resistance should be (almost) zero ohm.
Just like having some spare belts, I usually have 2 spare light bulbs as well.
FINAL WORDS
Trying to fix the bulb issue on a snow blower is like trying to find that elusive one broken bulb on in Christmas string lights. It takes time and patience.
If you found this article to be helpful, can you do me a favor and sign up for my free newsletter? The form is located on the upper right side of the screen.
Thanks and good luck with your snow thrower!