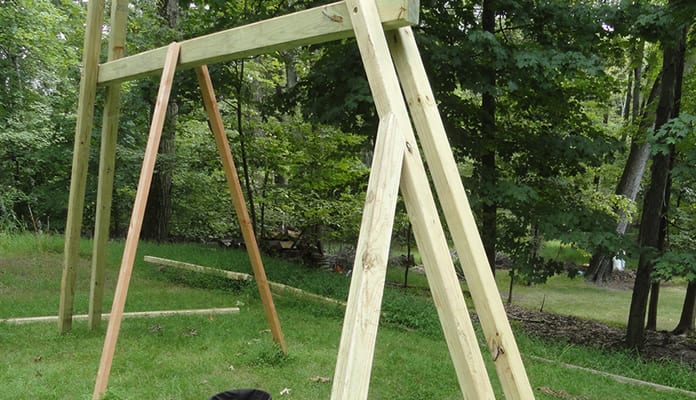 If you have the necessary parts and tools lined up, constructing a free standing swing set is a fairly easy task. To boot, this swing set requires a minimal amount of cutting.
All tasks outlined in this post took me about 5 hours so let's get started.
How I Built My Own Backyard Swing Set is made up of series of posts:
Part 1
, Part 2 (you are here) and
Part 3
.
ALLTHUMBSDIY STEPS
STEP 1 – Standard edging on 4 x 4 and 4 x 6 lumber are rather sharp and are prone to splintering. To minimize the risk, I used my 1/2″ radius bit on my router round out all edges. Here are some pictures of my rounded 4 x 6 (main beam):
Here some picture of my rounded 4 x 4:
Please note that 4 x 6 edging has a slightly fancier look than my 4 x 4 edging. That look can be achieved by controlling the depth of my router bit. So, if you have never used a router before, it might be a good idea to practice using it on some scrap pieces of wood;
Lastly, routing generates lots of saw dust and wood chips. With my young children playing in the yard, I don't want this stuff around so I used a large tarp to collect waste products.
STEP 2 – With 4x4s rounded, I begin the assembly by laying down two, 10ft 4x4s sandwiching a 12 ft long 4×6 main beam and measure with my Swanson Speed Square to measure 15 degree angle.
STEP 3 – Using my 12″ drill bit, I bore holes on all three support beams. Then I used my Milwaukee 3/4″ spade bit to countersink the hole so that the bolt head will be flush with the surface.
STEP 4 – At this point, the entire assembly (four, 4 x 4 x 10s and one, 4 x 6 x 12) weighs about 190 pounds so I want to get it right side up before adding any more weight. I didn't have the luxury of having someone else at the time but you may want to consider get some help from a buddy.
Also, before raising the structure, I have two, 2 x 4 x 10s and some 3″ Deckmate screws near me so that I can install them to stabilize the structure while installing triangle support beams.
Lastly, note that two 4 x 4x bottom is splayed out to add little more stability. This will be removed once we bolt on additional structures.
STEP 5 – I cut two 4 x 4s to 86″ in length with a 30 degree angle and tack them on temporarily with 3″ Deckmate screws
STEP 6 – I used my 3/4″ spade bit again to counter sink the 8″ bolt heads and washer/nut, then used a hacksaw to cutoff the excess bolt (must cutoff before installing a bolt on the other side);
STEP 7 – Now I installed a temporary bracket to support a final middle piece (that has not been rounded) by screwing down all three 4 x 4 pieces with Deckmate screws.
STEP 8 – Finally I secure the base of the triangle to vertical support pieces using my Simpson-Strong 3″ structural screws.
STEP 9 – With one side almost complete, I repeat steps 5-8 for the other side.
STEP 10 – At this point, I haven't tightened up the bolts that secures the main beam to side supports. Before I do, I check to make sure the main beam is level. If not level, I can make small, incremental, side-to-side horizontal movement until I get it right.
STEP 10 – With supports for both sides in place, I can now fit the final locking piece and tighten up all bolts.
NEXT STEP
With the structure now fully assembled and in place, I can begin attaching the swing set accessories (Click here for Part 3).