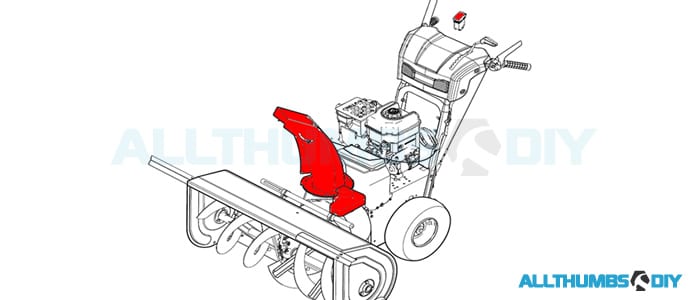 This article will describe how I repaired my electric chute/spout that stopped turning on a John Deere 1330SE snow blower / thrower.
PROBLEM
Electric chute controller failed to rotate either the left or right side.

Because this particular electrical system DOES NOT have any fuses, other electrical problems such as dim or non-lit headlights and broken deflector control can all contribute to a particular problems and needs to be examined as well.
PROPOSED SOLUTION
You can either replace the switch or repair the old one. If you want to replace it, you can buy either of these:
Please note that Briggs & Stratton has authorized a substitution of part number 1752240 to part number 1754865YP. The new part may look different and may come in a different packaging since part number 1754865YP was previously sold under the Murray or Snapper brands. This part is now being branded and sold under Briggs & Stratton.
Briggs & Stratton has owned and operated Snapper since 2004 and Murray since 2005. They will continue to provide high-quality replacement parts under the unified brand.
I chose to repair the old one because the it was a quick and simple fix (disassembling & cleaning rocker contact pads).
APPLICABILITY
This solution applies to most Simplicity, John Deere, Snapper and Murray branded snow blowers / throwers with an electric chute control switch.
REQUIRED TOOLS AND MATERIALS
Flat-head screwdriver;
320 Grit sandpaper; – if this is an emergency repair and you do not have a piece of sandpaper, you can use a small flathead screwdriver to scrape
Couple of Q-tips;
No. 2 pencil with eraser
Noalox® Anti-oxidant Compound; – if this is an emergency repair, you can skip this product (but I highly recommend and apply it to internal contact pads)
One of the biggest contributor to breaking a snow blower is a snow build-up on various gears and motors. Anytime a motor is working harder than normal, you can create a hazardous electrical overload situations, which shortens component life.
DuPont Teflon Snow and Ice Repellent
works great to prevent snow from sticking. Read more about it
here
BACKGROUND
There are three major components to controlling the snow discharge chute:
Chute Control Switch – rotates the chute clockwise or counter-clockwise;
Wiring Harness – conducts electricity;
Linear Chute Motor – responds to input from the switch to rotate the "teeth ring" around the chute forward or backward;
This article focuses on the discharge chute/spout control switch because the wiring harness and motor are far less likely to fail.
CHUTE CONTROL SWITCH
Chute control switch is commonly referred to as DPDT or Double-Pole, Double-Throw momentary rocker switch.
When the left side of the chute control switch is pressed (Position 1), the two small circular pads on two the metal rockers will "see-saw" to the left, make contact with two bottom left contact pads to complete a circuit. This circuit drives the chute motor clock-wise, turning the chute to the left.
When the right side of the switch is pressed (Position 3), same thing happens to the right contact points, but this time the polarity is reversed, driving the chute motor in a counter-clockwise direction, which rotates the chute to the right.
When the switch is released, two rockers return to a "balanced" position (Position 2), which maintains an open circuit.
WHY BENDING ROCKERS/LEVERS IS NOT THE CORRECT SOLUTION
There are lots of videos and forums posts suggesting that bending these two metal rockers inside the switch will restore the chute control and indeed, chute control seems to return for most people but I am going to suggest that this repair step is simply masking the problem and here's why:
Two metal rockers are located inside a sturdy plastic housing. The way switch mechanism is constructed, there is a limited travel distance when a switch is depressed. That means unless the housing is compromised (i.e. cracked) a person simply cannot exert additional force to bend these rockers
Rockers are shaped like a "W". How can an almost-1/4″ thick metal shrivel from a "flatter W" to a "taller W"? I say that is physically improbable, given the amount of electricity we are working with
So why does it work after bending? I can think of two reasons.
First, when rockers are removed, some of these surface deposit materials are removed, thereby allowing electricity to flow through again.
Second, when rockers are reinstalled, perhaps they are switched around so that the the surface deposit locations no longer correspond.
In either case, I suggest disassembling, cleaning and applying anti-galling compound.
ROOT CAUSE
If you take a look at the bottom contact pads as well as contact pads on the rockers, you can see dark dimples and/or surface deposits.
I believe these are byproducts of arcs, sparks and galling when two contact pads touch each other.
STEP-BY-STEP GUIDE
Gently pry off the female receptacle from the chute control switch from the underside;
Make a note of the bottom housing. Mine head a green sticker but if you do not have one, tape on a small note to indicate right and left side
Please note that two retainer springs may fall out as you remove the bottom housing so keep a white towel (or something similar) underneath;
Take a flat head screwdriver and carefully work to separate the bottom switch housing from the top switch cover. Carefully not to exert too much pressure as that may break off the tabs;
Remove two rockers;
Using Q-tips, remove as much residue / surface deposits from the contact pads located on the bottom housing as well as on rockers;
Using an eraser from a No. 2 pencil, try to remove the remaining residue; If they are stubborn, use a small piece of 220 or 320 grit sandpaper and carefully sand off the surface (use gentle touch here in order to avoid changing the profile of the contact pads;
Use a slightly damp papertowel to remove dust and debris
Apply a small dab of NOALOX on all contact surfaces (no need to glob them on; just a thin coating will do;
Reverse disassembly steps, making sure that the bottom housing is reinstalled correctly and that all wires are attached in the same direction as before
WRAP UP
I was able to fire up the snow blower and confirm that my chute worked (without bending those rockers).
My guess is that this switch needs to be maintained twice every season but it only takes 10 minutes so it's no big deal.
If you found this article to be useful, can you do me a favor and sign up for my newsletter? The signup form is found at the top of the screen on the right side.
Good luck with your repair and let me know how it turns out!

REFERENCES
DPDT – DPST is short for double pole, single throw. Double pole means that the unit contains two identical switches, side by side, and operated by one single toggle or lever. This means that two separate input wires can be controlled by a flick of one toggle. Single throw means that each switch can make or break a circuit; it can connect the input wire to the output, or not. It can't connect to one or other of two output wires, switching between them. A DPDT switch is also used for a disconnecting a 240 volt supply from a 240 volt load. Some other types of switches are Single Pole Single Throw (ordinary light switch), Single Pole Double Throw, Double Pole Double Throw, Triple Pole Single Throw and Triple Pole Double Throw
Rocker Switches – Rocker switches provide a way to switch on and off your electrical circuits. Rocker switches come in either two function, such as an ON-OFF switch, or three function such as an ON-OFF-ON switch. For each function, the switch can be either a single pole, or double pole switch. A double pole rocker switch is basically two switches in one so that you can operate two circuits with a single switch. And finally, each switch function can be either ON, OFF, or MOMENTARY operation. MOMENTARY operation means that when your finger is removed from the switch, the switch goes back to the OFF position. Connections on the back of the rocker switches is usually made using 1/4 inch push-on terminals. An ON-OFF rocker switch will have a terminal to connect to your battery or source, and a second terminal to connect to your load or accessory. An illuminated rocker switch will have an extra terminal to connect either a ground wire or common wire to allow the indicator light to illuminate. A three terminal rocker will have a terminal to connect your source, and two terminals for the two loads the switch will operate. A double pole rocker switch will have either 4 or 6 terminals on the back.
Galling – Galling is a form of wear caused by adhesion between sliding surfaces. When a material galls, some of it is pulled with the contacting surface, especially if there is a large amount of force compressing the surfaces together. Galling is caused by a combination of friction and adhesion between the surfaces, followed by slipping and tearing of crystal structure beneath the surface. This will generally leave some material stuck or even friction welded to the adjacent surface, whereas the galled material may appear gouged with balled-up or torn lumps of material stuck to its surface.