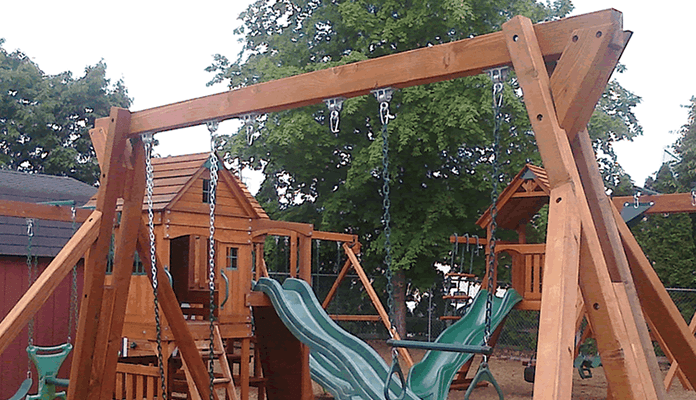 Building a free standing swing set is not as difficult as one might think. With decent sets costing over $1,500, I decided to build one myself.
This project is lengthy, so I broke up the article into 3 parts:
BACKGROUND
With my kids rapidly growing, I wanted to buy them a sturdy (safe) play swing set to play with.
I found a really nice swing set made from red cedar at a local swing set dealer, but it was priced over $2,700!! I checked 6 or 7 additional dealers and found that decent sets were all priced in the $1,500+ range, including sets made from metal, PVC and other materials.
Obviously, buying a set would have been quicker but most sets I checked out had one or more deficiencies I did not like:
Using doubled up 2x6s used as the main beam;
Thin support beams;
Use of lag screws to secure load bearing joints and accessories;
DOUBLED UP 2X6s
Using doubled up 2x6s is actually sturdier than using a single 4×6. The problem is how how some of these swing set accessories are attached to it.
To attach a swing seat or other accessories, we have to drill screw holes in the center of the beam, which meant the screws were installed right in the middle of 2x6s.
I think it would have been fine if bolts and plates were used (figure on the right) to spread the load but I have seen many sets with simple lag screws holding up the hardware. The sandwiched 2×6 joint is also exposed to rain and snow which "could" be a problem if the lumber was not treated properly.
I read some place that 2 swing seats can potentially generate up to 6-8 Gs when swinging in alternating pattern so I think it is very important that we do not skimp on how we attach swing set accessories.
Instead, I scoped out the one I really liked and took some eyeball measurements and will try to replicate it by using pressure treated lumber (instead of red cedar).
Kids are amazingly talented pushing design limits to put themselves in to danger. To minimize the risk of injury:
We should create a buffer zone that should be roughly twice the height of the swing. For example, if the height of the swing is 6 feet, the front buffer zone should be approximately 12 feet. Rear buffer zone should also be approximately 12 feet;
The distance between seats should be 24 inches or greater (to avoid hitting each other while swinging);
The distance between a seat and the nearest support structure should be be 30 inches or greater;
PLANNING
First of all, if you can afford it, go with red cedar. Red cedar is naturally resistant to rot and has minimal splinter risk, but it is super expensive (about 5 times the cost of a pressure-treated lumber where I live).
Second, with a $500 budget, I decided to use pressure treated (PT) lumber because it is inexpensive. I was not concerned with PT lumber because unlike the play gym, I didn't expect kids to touch the frame of a swing set that often, if at all.
PT 4x4s come with sharp corner edges so to minimize the risk of getting splinters, I will need to round off the edges using a router.
Lastly, I originally intended to build a backyard play gym that was attached to the swing set. However, due to the size of my lot (100 x 385), I just could not make the configurations work without sacrificing features that my son and daughter wanted.
Instead, we decided to build and locate them separately. So my goals were to:
Build a simple but rustic looking swing set that can take a beating;
Handle up to 4 children, using 3 rides (third one being a Mega Rider Swing Seat that supports 2 kids)
SWING SET DESIGN
As previously mentioned, I really liked the this swing I found at a local store but at $2700, it was just too expensive. Instead, I am going to try to create a slightly different version of it.
MAIN BEAM – This is the horizontal beam that will carry the bulk of the weight. It needs to resist the vertical and angular forces as well as to provide torsional rigidity (i.e. twisting). I've elected to utilize a 4 x 6 x 12 ft long PT lumber (12 extra inches on either side so the effective span would be about 10 ft)
VERTICAL SUPPORTS – Use 4 x 4 x 10 ft PT lumber with contiguous load-bearing beams, attached to a 30-degree triangular base for stability;
VERTICAL SUPPORT BRACES – 2 x 6 PT to tie in vertical pieces
CONNECTORS – All connections will be made with galvanized bolts, washers and nuts from Simpson-Strong with the exception of ground support bars which will be secured to standing 4x4s with Simpson-Strong structural lag screws.
WHY DID I CHOOSE THIS DESIGN
I checked out quite a bit of swing sets and most of them used metal connection methods and I just didn't think these connections will stay tight over a period of time:
I found 2 corner bracing designs using modified wood pieces and settled on my current choice (image on the right). The other one was built like a tank but it also looked too bulky with 6 x 6s which is way too heavy for one person to lift and fit:
PARTS
| | | |
| --- | --- | --- |
| Qty | Item | Buy |
| 1 | 4 x 6 x 12, Pressure Treated, SYP | Local |
| 9 | 4 x 4 x 10, Pressure Treated, SYP | Local |
| 2 | 2 x 6 x 8, Pressure Treated, SYP | Local |
| 4 | 1/2″ galvanized carriage bolts x 6.5″ | For swing hangers |
| 4 | 1/2″ galvanized carriage bolts x 10″ | For side leg braces |
| 8 | 1/2″ galvanized carriage bolts x 12″ | 4 for main beam braces; 4 for side leg braces |
| 16 | 1/2″ galvanized washers | To spread load from a carriage bolt head |
| 16 | 1/2″ galvanized nuts | To secure carriage bolt head |
| 1 box | Simpson 1/4″ x 3″ structural screws | |
| 1 | Swing-N-Slide Extra-Duty Swing Seat (green) | Link |
| 1 pair | Swing-N-Slide – Extra-Duty Swing Hangers Model #4888 | Link |
| 1 pair | Congo Play – Commercial Swing Hanger Galvanized Model # SH-04; | Link |
| 1 | Swing-N-Slide – Mega Rider | Link |
| 1 | Swing-N-Slide – Extra-Duty Swing Seat (green) | Link |
| 1 | Swing-N-Slide – Heavy-Duty Trapeze Swing Bar | Link |
*SYP = Southern Yellow Pine (commonly found at local large box retailers)
*PT = Pressure Treated
REQUIRED TOOLS
There are few special tools you will need for this project (but can be used for building decks and tree houses 🙂 ):
When cutting 4x4s, I placed the miter saw on the ground which is really bad on my back. If you have a saw horse roller (like this Craftsman Roller Stand 11-1/2″ Roller Steel Support Stand
), you can use your saw horses as a workbench.
Next Step
In How I Built My Own Backyard Swing Set – Part 2 post, I will show you how I built the swing set frame.

USEFUL RESOURCES