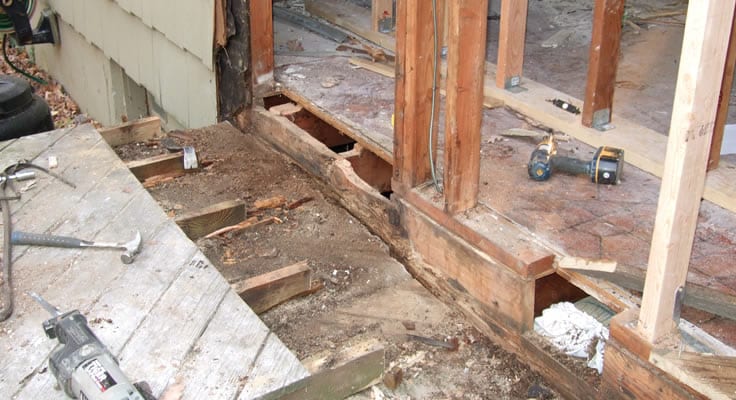 This project can potentially cause death and property damage. Please consult with a professional before taking on your project.
How to Replace a Rotted Rim Joist and Sill Plates is a multi-part series article, broken into Part 1, Part 2, Part 3, Part 4.
ABSTRACT
Part I of the article series describes the rot damage in detail and a temporary fix.
INTRODUCTION
During my kitchen remodel, I discovered a severe rot by the kitchen door that apparently went undetected for a long time.  The problem seemed to have been exacerbated by 2 fatal mistakes made by the previous owner/contractor(s):
Concrete patio was poured in a such manner that the top patio area had direct contact with the wood siding on the house;
Wood deck was installed later on top of this concrete patio.  The deck header, or a part of the deck that got attached to the house, was lag bolted to the rim joist of the house without removing the wood siding with no other means of redirecting water.  That meant lag bolts probably dripped in water behind the siding, possibly trapping a significant amount of water over a long period of time.  In addition, the surface of the deck was directly touching the wood siding, further trapping more water.
Needless to say, I was very aggravated with my discovery as I was already dealing with a tight kitchen remodel deadline.  With a 7 month old infant and a giant hole on the side of the house during very cold November days, I initially panicked about a prospect of putting my kitchen remodel on hold to address this rotted rim joist and sill plates.
After calming down and considering my options for an hour, I made a decision to install a temporary fix that would allow me to complete the kitchen remodel in time, but would also allow me to re-visit it at a later date to put in a permanent fix.
DISCOVERY
I've always had lots of insects and spiders underneath the kitchen door sill in the basement but could not figure out why.  Other than some water stains on rim joists seen from inside, rim joists and sill plates were all solid to touch and seemed to be in good condition (you will get a look at the rotted section later so that you can judge for yourself).
So when I peeled off the siding and deck steps to modify the kitchen wall, I did not expect much of anything.  Boy was I surprised (and pissed!).
As you can see, the rot on the rim joist was pretty bad (fig.2.2).  From what I could see (my view was blocked by concrete patio underneath the deck steps), the bottom two sill plates were in pretty bad shape as well (fig.2.3).
GAME PLAN
Since my entire kitchen wall was removed at this point, I decided to implement the following temporary fixes until I could come back at a later date:
Add blocking pieces between floor joists (to prevent twisting from rim joist failure) ;
Add new sole plates and plywood spacers (to level out the kitchen floor);
Add rim joist blocking pieces (to supplement existing rim joist);
Install Tyvek house wrap with foam rods (to temporarily channel water away from the damaged area);
PURCHASES
Three, 2″ x 6″ x 10′ lumber (not pressure treated);
One, 2″ x 4″ x 8′ lumber (not pressure treated);
One, 1/2″ plywood (2 x 2 piece, not pressure treated);
Five sets, each set consisting of one 1/2″ x 5″ bolt, two matching washers and one nut
One, 5lb box, 3″ Deckmate screws
Various Structural ties / connectors
Tyvek house wrap
One, 1/2″ x 6 ' foam pipe insulation (to act as a foam rod)
REQUIRED TOOLS
3ft & 5ft level
Mash hammer
Claw hammer
Right angle drill (cord or cordless)
Circular saw
Reciprocating saw
Chisel for wood
Cap stapler (for tacking down Tyvek) or regular Arrow T25 stapler
STEP-BY-STEP REPAIR GUIDE
Step 1 – Remove all debris after exposing the rotted framing;
Step 2 – Cut 2×6 pieces to approximately 5 ft in length to "sister" notched floor joists.  I rubbed some paraffin / candle wax to make them easier to slide under the floor boards.  Instead of using a claw hammer or sledge hammer, I used a 3 pound mash hammer to carefully pound them into place (fig.x.x)
Step 3 – Using a right angle Ryobi cordless drill, I installed sixteen 2.5″ Deckmate screws (eight screws drilled in from the sistered joist into existing joist and eight from the existing joist into the sistered joist);
Step 4 – Using a 1/2″ bit, I drilled a hole towards the rear part of the sistered joist, then installed a 1/"2 x 4″ bolt, making sure to use 2 washers and a nut;
Step 5 – Measure the space between joists and cut appropriate 2×6 (for both floor joists and rim joist) blocking pieces and install them, again using 2.5″ Deckmate screws.  In order to add extra strength, I used Simpson Strong Tie L50 connectors to tie in the sistered joist to new rim joist blocks;
Step 6 – With sistered joists and rim blocks in place, I cut out a strip of 1/2″ plywood to level out the sub flooring (had to use several shims to support the outer edge, where the rotted rim joist height was lower than the new, sistered rim joist blocks)
Step 7 – At this point, I resumed my kitchen remodel work, re-installing floor plates and weight bearing wall framing members. The entire exterior wall was covered with 3/4″ plywood sheathing (exterior grade), EXCEPT a small section of the damaged area which was separately covered with a 1/2″ plywood for later removal.

NEXT >> How to Replace a Rotted Rim Joist and Sill Plates – Part 2
RELATED POSTS
How to Replace a Rotted Rim Joist and Sill Plates – Part 1