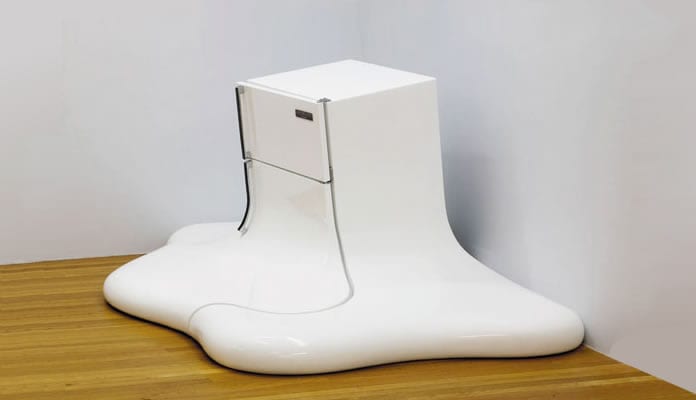 One morning, I discovered that my 6 year old (GE Profile PFCF1NFWA) refrigerator suddenly could not hold the temperature. Instead of holding at 0 and 37 degrees (freezer and refrigerator respectively), I found them at 48 degrees (and climbing).
We have a tendency of piling frozen food in the bottom drawer so I thought it was nothing more than an improperly sealed freezer door so I emptied it out, unplugged it for 2 hours, then after plugging it back in, left the refrigerator undisturbed overnight.
It worked for a day but then the temperature started to climb again which indicated a component failure. This post explains how I repaired the problem myself.
REQUIRED TOOLS
Mini ratchet wrench / ratchet sockets
Screwdrivers
Compressor / Air can / Vacuum
Digital Multimeter (DMM) (Don't have one? Read my reviews here)
TROUBLESHOOTING STEPS
A real quick snapshot of how everything works is that based on thermistor measurements, the motherboard sends a control voltage to the inverter board. Inverter board in turn supplies or discontinues electricity (coming from the outlet) to the inverter compressor to cool the refrigerator.
First step was to utilize the refrigerator's self-diagnostics to see if it could detect a failed components (If you don't know how, read my 2 part article on How to Use Built-in Control Diagnostics for more information)
Because my refrigerator (and freezer) both had working lights and fans, I decided to test the control board (i.e. motherboard), inverter and inverter compressor using my digital multimeter.
Using my DMM, I tested the J 15 (j15) jumper, expecting to see anywhere between 4-10 volts (VDC). Since mine checked out at 5.11, my motherboard was working properly.
After unplugging the refrigerator first, I removed the inverter from the compressor to test the compressor's resistance (ohm). This step was necessary due to the fact that I did not own a special tool to test the inverter directly.
The inverter compressor has 3 posts and to measure the resistance, I had to connect my DMM test leads to two posts at a time (which meant I had three pairs to test). My DMM readout indicated 6.6 ohm across all pairs so the compressor was determined to be in working order
My next step was to purchase a replacement part. I recommend AppliancePartsPros.com or RepairClinic.com because they offer comprehensive parts database. Just make sure you price shop between the two. By the way, the part number for the inverter with a Jumper kit was WR49X10283 (cost around $150 USD)
It took 2 days for it to arrive and only took about 20 minutes for me to swap it in.
Upon plugging in the refrigerator, I let the temperature stabilize over 24 hour period. I am happy to report that it has been working beautifully.
CONCLUSION
So why did my inverter fail? My guess is that the freezer door was not completely sealed overnight and the compressor ended up working overtime which may have placed extra stress on the inverter. So check to make sure that you do not over-stuff the bottom freezer and the doors are properly sealed shut.
After 2 weeks, I am happy to report that my refrigerator is still working and that I saved around $325 in labor charge.

PS. If you found this article to be useful, why not sign up for my newsletter? Just look for a signup form on the upper right hand side of your screen. Thanks!